Whether you prefer in-play horse racing trading or in-play football trading, live trading on both sports offers many more opportunities than pre-match trading.
This is because of the in-play price movements that create opportunities for additional profit.
But how do you make money with inplay trading? And, how do you take advantage of price movements to achieve a green book?
Find the answers to these questions and many more in this article!
Chapter 1
What is In-play trading?
What is the main rule of trading?
What is a green book?
What causes odds to fluctuate?
What is an in-play trading scanner?
Let's check it out!
The in-play trading strategy takes advantage of price movements during an event and profits from them.
For example, you would place a BACK bet at high odds, and then place a LAY bet at low odds due to a price movement in a match or race.
Read more about laying and backing in this article.
This way, if you place a BACK bet at a higher price than a LAY bet, you will be able to generate a green book, which is a guaranteed profit regardless of the outcome of the event.
Why do odds move?
Regardless of the sport we choose to trade, the odds constantly react due to the action.
The way they change depends on the magnitude and impact of the event on the probability of the estimated odds occurring.
This may sound a bit complicated, so let's illustrate with the example of a football match and a horse race:
The odds for a 1X2 event will shift more if the away team scores a goal than if the home team receives a red card.
In horse racing, the odds on the selected horse will drop slightly less if it makes a great start than if it leads the race before the finish line.
The size of any odds movement depends on their influence on the outcome.
What else is likely to affect odds movements?
Other factors can affect LIVE odds movements, such as the amount of money wagered on an event, by playing the event under the limit on Asian bookmakers, and people willing to place a given bet at lower odds than it should be.
This is because there is a reluctance to take bets on the opposite bet.
Example: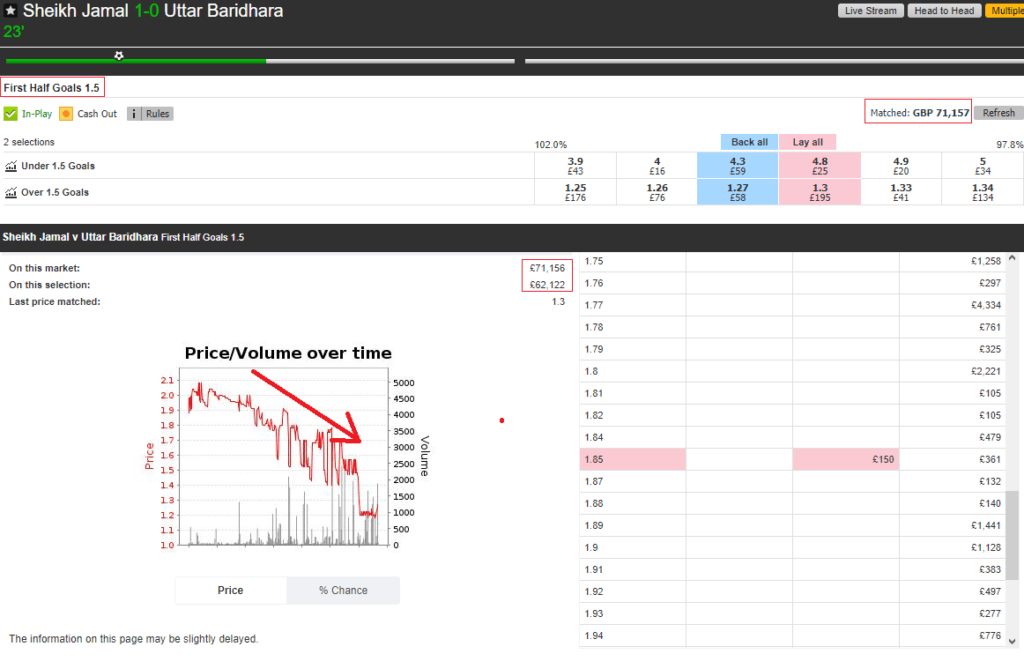 In the example above, some people may say it is a fixed match.
However, in reality, professional traders place bets on the Betfair betting exchange against each other, utilising inplay trading and looking for the best possible odds on a given event instead of betting with traditional bookmakers.
These are so-called surebets – making money with no risk on odds differences.
Are you wondering if a second goal was scored before the halftime break in the above match?
We won't keep you in suspense.

In-play trading scanner
Some individuals use inplay trading scanner, but in our opinion, they are of no benefit.
The scanner relies on an algorithm that highlights matches in which the intensity of shots on goal is high.
However, it mainly depends on statistics taken from sites such as Bet365.
Why shouldn't you use it? Simply because statistics at all bookmakers do not reflect what is happening on the pitch or, more importantly, can be, and often are, falsified.
This is how bookmakers entice amateur traders to bet using statistics, leading to the question arising:
'How is it possible that there are 20 shots before halftime, including 16 on target, and there have been no goals?!'
Well, that's how! 🙂
A better option is to follow the live stats on the Betfair exchange, which updates you with all the essential information such as a shot on target, a shot off target, or a shot off the woodwork etc.
Chapter 2
In-play football trading
In this section we will answer the following questions:
What to follow when in-play trading on football?
When is it worth exiting the market?
Why is it not worth risking?
What are the main aspects of successful inplay football trading?
So let's have a look!
How to trade?
The basis of proper Betfair trading is not only following the live match itself but also deep research before the match, allowing us to estimate the odds better and predict their behaviour.
It is also vital to compare pre-match odds and their behaviour.
For example, just because there are no goals until the break and the pre-match line for over/under is 2.75, it doesn't mean there won't be any at all.
Based on the above statements and very favourable odds at halftime, it is possible to place LAY bets at very low odds (which is even more beneficial for beginners due to the low liability), which will allow us to make a profit in the second half of the match.
Trading is about exiting the market if you make a profit.
The amount of profit you make is up to you. However, it is essential to accept a smaller profit than to risk leaving the trade to its fate – basically gambling rather than trading.
This is why in the above lay bet under 3.5 was traded out before the fourth goal because I preferred to have a guaranteed profit of £42 regardless of the final result.
Key points to profitable football trading:
Watch the live stream and react to match events
Follow the stats from different sites to allow comparison
Keep up to date on line-ups, weather, and team engagement
Pay attention to the behaviour of the pre-match odds
Chapter 3
In-play horse racing trading
What is essential in horse racing?
Why shouldn't you wait until the last moment?
What are the key tips when in-play trading on horse racing?
An example of successful front-runner trading!
Here we go!
How to trade?
Deep research before each race is fundamental in horse racing. Without it, we cannot estimate what condition the horses are in, how they have performed in previous races and how they are likely to run, which means that we basically know nothing.
Research before trading inplay in horse racing can give us a massive advantage over other casual bettors or traders on the exchange.
First of all, check the previous starts and the form of your chosen horse and the others in the race.
This will give you a better idea of what might happen during the race.
If you notice that your horse has had a fast start in every race, then place a back bet at the best possible odds you can.
As the race progresses, the odds will fall if your horse goes into the lead.
It is then perfect for you to place a lay bet on this horse at lower odds than your back bet – guaranteeing yourself a profit regardless of how the race ends.
Keep in mind that when you follow horse racing on a live stream, there is always a slight delay in the streaming.
Please don't wait until the last minute to place a lay bet, as it may not be matched.
Exchange odds react faster than what you visually see on the live stream.
This is just one example of trading front runners.
Please read our other articles to learn about different horse racing trading strategies and how to make a profit in this sport.
Key points to profitable horse racing trading:
Keep in mind that the market reacts faster than the live stream
Check the horses' condition both in previous races and in the paddock
Listen to the radio broadcast or watch the live stream
Research the other horses
Chapter 4
Tips from the expert
What should you always keep in mind?
Why is it better to focus on just a few events?
How to get the most out of an event?
We are about to find out!
Back High & Lay Low
Hopefully, everyone knows this by now, but it must be mentioned again.
To guarantee yourself a profit, the lay price must always be lower than the back price.
So focus on making your back bet at the highest possible price and your lay bet at the lowest possible price. But never wait until the last minute, so you don't miss out on a trade!
Don't trade on many events
Focus on two or three events in one day. Trading on a significant number of events may cause you to be distracted and not achieve the desired results.
Also, it can lead to a series of losses which, of course, you do not want to happen.
In addition, if you have time to trade a large number of events, it means you have not done adequate research related to your main bets.
Don't trade on many events
Sometimes, when I meet a trader just starting, I get the feeling that they're not even trying to squeeze as much out of trading as possible.
The best trading practice is to place any bets at the best odds you can. What do I mean?
Well, if your current available back bet is at odds of 2.00, then place your trade at odds of 2.02 or higher.
The same for lay bets – if the next odds offered on the exchange is 2.00, then place your lay bet at odds of 1.98 or lower.
You may ask why when it's only a few pence or pounds?
Well, every penny equals more profit.
Chapter 5
Conclusion
In-Play trading requires that you organise your time wisely.
This time should be spent on pre-match or pre-race research as well as keeping an eye on your live bets.
The above article should make it easier to use any in-play trading strategy.
We have outlined the essential tips and information that you should pay special attention to when in-play trading.
Also, look at our other articles to learn which trading strategies are the most profitable for both Football and Horse Racing. And we also cover several other sports in our articles.
We wish you profitable trading!
And remember, you can always use Betfair's free exchange simulator before you start trading for real money!