Since the new trend of online sports betting, many bettors have sought new methods of making real money.
For beginners, there is too much information out there trying to mislead or guide them through the process.
For example, there are over 50 forms of gambling in sports events, but are they profitable enough?
Many sportsbooks allow their gamblers to try a wide variety of bet types. And many punters, especially newbies, hop into one of them and end up losing everything on their bankroll.
The truth is that you don't have to stick to a form of betting. There are more bet types out there ready to increase your chances of getting a return.
Each-way accumulator – is one of the highest paying forms of sports gambling.
Gamblers ready to dive into the racing market and make a lot of money with lower risk should relax and read this review.
We'll be exposing you to a complete guide to use Each way accumulators to your advantage.
Chapter 1
What is an Each way Accumulator?
Each way accumulator, also known as each way Acca or EW accumulator, consists of two aspects.
It covers two parts of the bet including the Win bet and the Place bet all into one slip.
Here, these two bets will be placed with equal amounts covering a selection of your desired horse to Win and also Place.
For the 'win' part, the horse must finish its event as the first. And for the 'place', the horse must finish in one of the top four or five positions of the race.
The place position may vary for different bookies where it may range from top 3 to 5 positions.
Your stakes in the EW Accas are doubled in a way that one would cover the win, and the other for the place.
For example, if you placed a back bet with a $5 stake each way, $5 will cover each bet equally. That is $5 for the place and $5 for the win which accumulates to $10.
The stake is automatically doubled for the two parts;
There is no need for you to stake for each side.
Read more about EW betting in this guide.
Chapter 2
How Does Each Way Accumulator Work?
An EW Acca works like other multiple bets but follows a different pattern.
The first part, which is the win, is later placed on the place to increase the total odds. Let's check out some types of Each way accumulators and how it works.
Apart from the single each-way bet, the Accas cover other selection numbers in one bet slip. The double EW for example, simply implies that you picked two separate horses to place or win in their distinct races.
For your bet to be successful, these horses must place or win in their respective games. It might sound confusing at first, but the Accas are much like two separate put together in one slip.
Any sports betting exchange makes sure to provide different forms of wager for their customers. Like on Betfair, you can easily navigate between different forms of gambling, including each way.
However, you can make several selections to increase your earnings.
Let's discuss some of the Accumulator forms of each way gambling.
Types of Each Way Accas
This section will guide you through the different number of selections you can cover with Each way.
Treble each way is another interesting form that simply means that you have three selections of events in one slip.
The Accumulators go as far as making an optional 15 selections for you to win big. Like the double and treble, we have 4 fold, 5 fold, 6 fold, and many more.
Fold EW Acca
This accumulator bet means your selections for each way wager is four.
That means all four of your selections must be successful either in the place or win bets of your preferred horse.
With £10, you're creating a higher chance of winning huge profits by making four selections with four different odds all combined in a slip.
5 Fold EW Acca
Like the fourfold, the 5 fold means five selections are combined in one slip.
Here, the whole five selections must be won either in the place or win Each way bet for your game to be successful.
6 Fold EW Acca
As the name implies, the 6 fold EW Accas cover six selections of different racing events.
So, to win in this Acca bet, six of your each way wagers must come through.
As the number increases, your chances of winning might be low, but your potential earnings may be a life-changing experience.
7 Fold EW Acca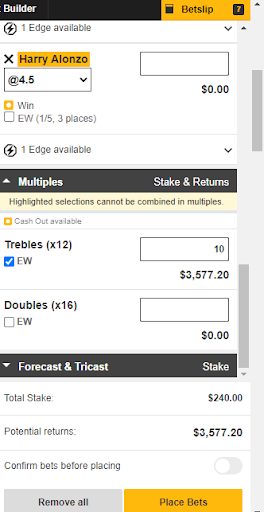 The 7 fold covers 7 different racing selections with over thousands of euros to be won with just £100.
However, all 7 selections must be a success for you to claim a win.
8 Fold EW Acca
Like other accumulator Bets, the 8 Fold each way bet accumulator must have eight selections for a particular stake.
So, winning the bet implies that all your eight selections won at their respective games.
However, the increased number of selections reduces your chances of winning the bet.
But, if you think your horse betting skills are top-notch, go ahead and make nice streaks of profit.
| | |
| --- | --- |
| EW Acca Bet | Number of selections |
| Double | 2 |
| Treble | 3 |
| 4 fold | 4 |
| 5 fold | 5 |
| 6 fold | 6 |
| 7 fold | 7 |
| 8 fold | 8 |
Example in Horse Racing
Each Way Bets are undoubtedly one of the highest paying types of wagers in racing events. In horse racing, it is more like a life-changing gambling experience.
This is because of the simple and profitable type of gambling the sports entail.
Check out the example below and see how each way bets succeeds in bringing huge profits from very low stakes.
For instance, if you placed £10 on a horse to win at 10.0 odds in a race of 10 runners, each way bet is calculated like this;
Since your stake is £10, remember your bookie automatically doubles the bet for each side of the each-way wager.
So, you have £10 for the win side and £10 for the place side. So, if your interested horse finishes first, you win £120, which is calculated as £10 multiplied by 12 odds.
For the place side, the odds are mostly 1 ⁄ 5th of the total odds. So, the example above will have a potential return of £24, which is calculated as ⅕ of 12 odds.
This will give 2.4 odds and multiplied with the £10 place stake, you have a £24 potential return for the place. Altogether, your potential returns becomes £144, which totals as win side £120 + place part £24.
If the horse finished the race in the 4th to 10th place, you lose both on the winning part and the place part giving you a £0.
The thing is that each way Acca provides you with a less risky game. That is why if your selection wins in the top five positions, you win the place with a return of £24.
Which is better than losing the whole bet.
Pros
Provides you with a chance to win big
A less risky way to gamble
The Accas offers large odds with big winnings
Don't bother about the maths. Any online sportsbook has an automatic calculator for the calculations. Or, you can use ours.
Cons
Favourites can lose
Too many selections may be very risky
Chapter 3
Tips and Tricks From An Expert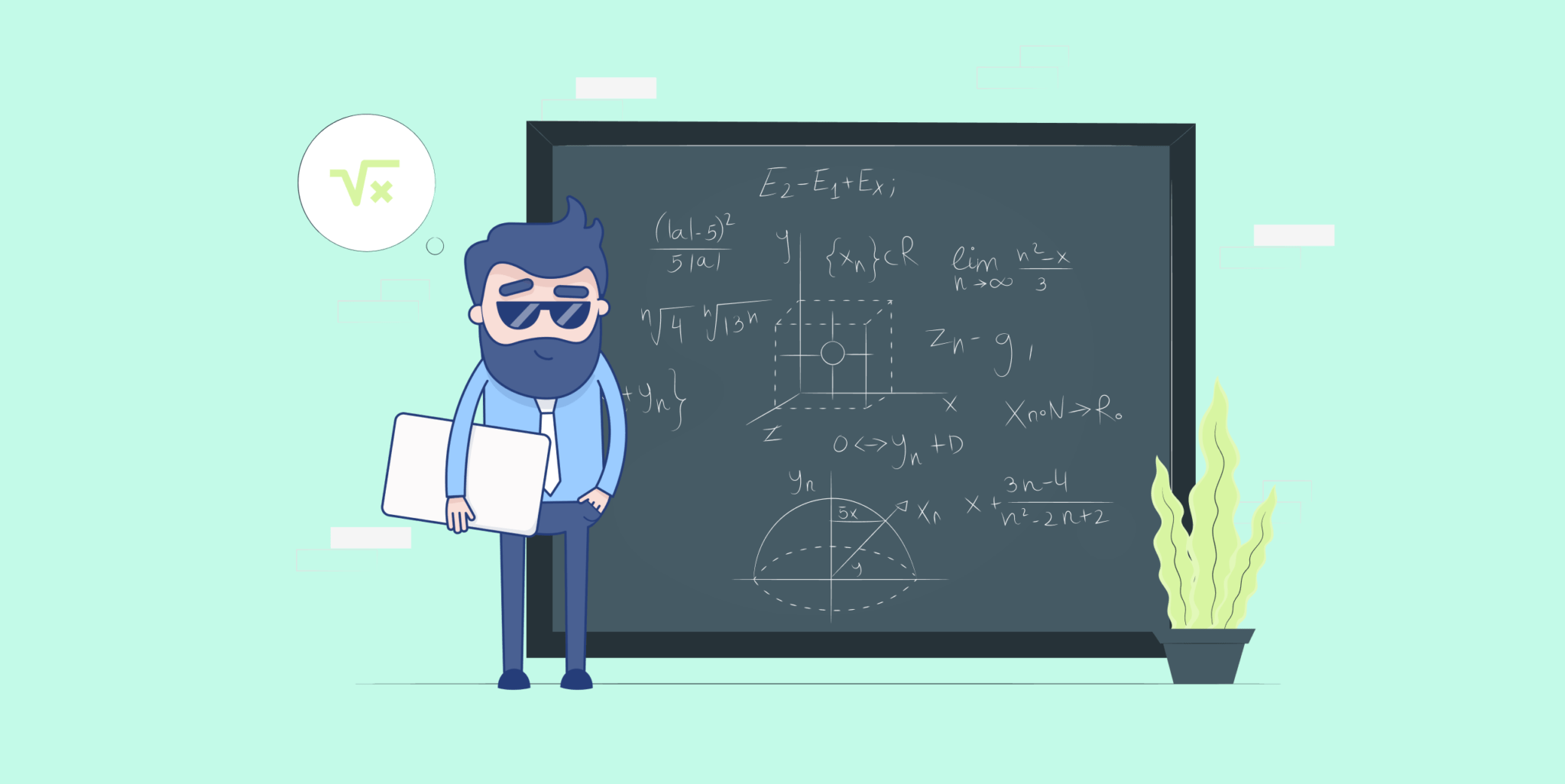 Don't always pick your favourite. Always research about the horses you want to put in your Accumulators.
Only use accumulators when you're very good at it.
Don't make your decisions only on the odds.
Check out the health status of the horses before capitalising on them.
Use a good risk management strategy.
Chapter 4
Conclusion
An Each way Accumulator is one way to gamble on racing events with higher chances of getting a return.
It provides two options for your selection to either finish first as a win or in the top 5 as a place.
By combining the high odds from different racing events, your selections from each way wager can generate a lot of income for you.
What are you waiting for? Visit a sports bookie today and win big with each way Accas.
Chapter 5
FAQs
1. How Does an Each Way Accumulator Work?
It works by doubling your stakes in two places. One for the win side; where your horse must finish in the first place. And the other doubled stake for the place part;
Where your horse must finish in one of the first five positions.
Though, the place criteria depend on your bookie.
For the bet to be a success, you must win on either the win or place part or finish first to win both parts.
2. Can You Do an Each Way Accumulator?
Yes! Any bettor can play each-way accumulators.
Just find the right betting platform and make good selections.
With this, you should be able to make a reasonable return off each way Accas.
3. What is a 7 Fold Accumulator Each Way?
This consists of seven each way selections put into one bet slip.
For you to win, all seven selections must be successful. If not, you lose the entire bet.