Let's get down and dirty with a Betfair Promotion review.
Betfair is a famous gaming company that offers sportsbook betting, virtual games, online poker, bingo, casino and the most significant exchange betting service in the world — it's arguably the greatest gambling site around.
If you're looking for an all-around betting site that excels at everything, then you simply can't ignore Betfair.
However, before you rush off to register an account, listen carefully.
I'm about to share with you a few ways to get some free money, bonuses and added perks when signing up to Betfair.
Seriously.
These promotions cover all sports, casino games, poker, and even bingo.
Let's start with the betting exchange promotion.
Chapter 1
Get A £20 Risk-Free Bet On The Betfair Exchange
• How to claim a £20 Risk-Free Bet?
• What are the trading conditions?
• What is the promotional code?
And the answers are below!
Here we go!
The betting exchange is a peer-to-peer betting platform for you to back and lay bets with other people.
As a result, you get better odds than the sportsbook section of the site and can also, in effect, become the bookmaker.
The exchange is the main pull to Betfair for many punters, and that's why this Betfair promotion is the most popular option for many people.
With this promotion, you will receive a £20 risk-free bet on the Betfair betting exchange.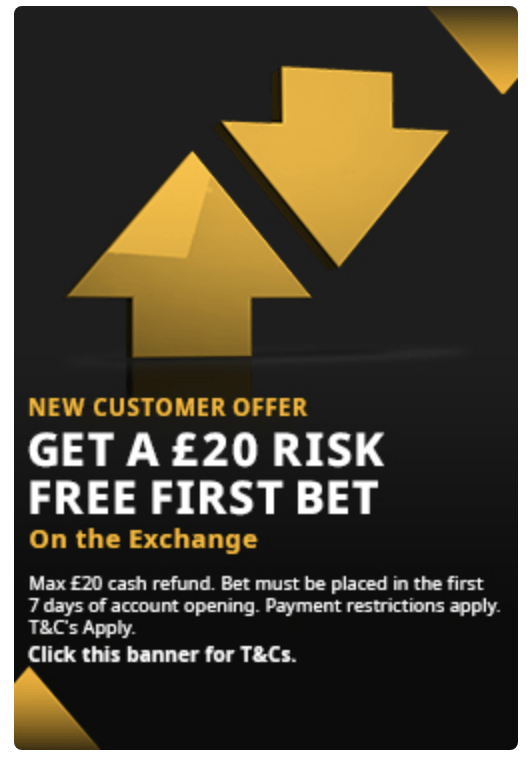 Here's how it works.
New customers who register an account on Betfair using the promo code "val225" will be eligible to receive the risk-free offer.
After signing up to the site using the promotion code, you will need to place a £20 bet on the exchange within seven days. If the bet you place loses, you will receive this back from Betfair as a bonus.
For example:
You bet £20 on Birmingham to win a football match against Derby County. They are priced at 2.2 on the exchange, and a £20 win will net you a profit of £20.40 if they win the game.
As this is your first bet since opening your account, you have the assurance of knowing that even if Birmingham doesn't win the game, you will lose nothing because you will receive your £20 stake back as part of the promotion — yes, it's a risk-free bet.
Terms You Need To Know
As mentioned, you need to be a new customer registering an account with the promo code "val225".
In addition to this, you will need to place your first £20 bet within seven days of registering, and the bet has to have lost within the same seven-day period.
You'll also need to make a deposit using either Apple Pay or a debit/credit card; no other payment method is eligible with this promotion.
Pros
Risk-free betting
Losing stake returned quickly
No wagering requirements
Cons
Limited time to place bet after registering
Not available for the following countries: Armenia, Belarus, Bulgaria, Chile, Croatia, Hungary, India, Latvia, Macau, Macedonia, Moldova, Romania, Russia, Serbia, Slovenia, Taiwan, Tunisia, and Ukraine.
Limited payment options
Betfair Exchange Addition Bonus & Features
Betfair occasionally offers additional bonuses for the exchange, so be sure to keep an eye on the promotions tab inside your account.
Chapter 2
Betfair Sportsbook Offers (Take Your Pick)
In the following chapter you will find out:
• What offer has Betfair Sportsbook prepared?
• How to get them and what are the promo codes?
• What are the turnover requirements?
Here you go!
The sportsbook section of Betfair is more like a traditional bookmaker.
But, of course, you're not betting against other players now, so the odds are slightly smaller.
Don't let this put you off, though, because there are still good bonuses and promotions available on the sportsbook.
In fact, there are many reasons to use the sportsbook over the exchange; with no commission on your winnings, multiple bets and many added features, the sportsbook might just become your favourite place.
That being said, let's take a look at some of their ongoing promotions.
Get Up To £100 In Free Bets
This is the main promotion on Betfair sportsbook, and it's open to new players who register an account from the United Kingdom or the Republic of Ireland.
You can receive a total of £100 in free bets by placing several single bets within 30 days of your account opening.
Here are the steps to qualify:
Register an account using the promo code ZBBC01
Place five single bets of £10 each on any sportsbook event with odds of 1.5 or over
Receive a free £20 bet
Repeat steps 1-3 up to a maximum of five times to receive additional free £20 bets up to a total of £100.
It's that simple.
Betfair Sportsbook Additional Bonuses
In addition to the main promotional offer for the Sportsbook, here are some additional bonuses, offers and features available to new and existing players.
Acca Edge
This bonus offer is available to all players who make sporting bets on the Betfair sportsbook with three or more selections. You can bet on any sport and even mix them when placing an accumulator.
For example:
You could pick two football teams to win and one horse to win a race, and this would be ok and within the rules.
There's no maximum number of selections, just the minimum of three choices, which is the best on offer and not available anywhere else — most bookmakers have a minimum of five selections.
The idea behind the Acca Edge is when one of your selections lets you down for threefold or more, you'll receive your money back as cash.
Other bookmakers who offer something similar will only give you your money back as a free bet, which is not as good as free cash because you would not receive that stake back if you were to win when using the free bet.
Betfair will offer you the option to choose whether you want Acca Edge when adding three or more selections to your betting slip.
If you say yes, the odds you would have received are slightly lower than they usually would be.
Here's an example of how to use the Acca Edge feature.
Select three or more selections and add them to your betting slip. You will then notice the offer of Acca Edge in the small yellow box.
As you can see from the image above, the bet is fivefold, and the odds are 341.6, but if I select the yellow edge button, this will activate the Acca Edge, and the odds will be 329.17.
If one of my five selections were to lose, I would get the stake back as free cash instead of losing all the money.
Once you have selected the yellow edge button, you enter your stake and place the bet.
Pros
Money-back as cash when one selection lets you down
Cash-out is still available (although this would then void the Acca Edge)
Only three selections needed
Best odds still guaranteed
Can mix across all sports
Cons
Not available on the exchange
Slightly lower odds
If one selection is void or postponed Acca Edge will not be eligible
Boost Your Odds On Three Horses Everyday
Boost your odds is available to all customers who have placed a bet within the last 30 days.
If you have qualified, you will receive three boost odds tokens to use on horse racing or the Greyhounds.
When you place a bet on either the horses or the dogs, you will see an "Apply Boost' button; if you press this button, the odds will be boosted and added to your betting slip.
This means you will receive better odds for the horse or greyhound of choice.
Terms You Need To Know
You must use the tokens by 10 pm on the same day you receive them
Any selections that have already been priced enhanced won't be able to receive a further boost, and you can't use the tokens on virtual racing or in-play betting.
Pros
Easy to qualify for the tokens -— just place a bet
Tokens added automatically
Cons
The maximum bet of £25 allowed on boosted bets
You can only bet on two sports
Chapter 3
Betfair Casino Offers
In this section you will learn:
• What is the casino bonus at Betfair?
• How to get it?
• What are the conditions?
Let's check it out!
Betfair casino offers you access to an abundance of live table games, tournaments, and exciting slots with the potential to win huge jackpots.
Currently, some great promotions are running for new and existing players.
50 Free Spins (+50 More After Deposit)
This Betfair Casino promotion is open to new players only and will give you 50 free spins to play on the 'Gonzo's Quest Megaways' or the 'Daily Jackpot' games if you use promo code: CASF51
When you open up a game in these two categories, a pop-up will appear and inform you of how many free spins you have left.
If you want an additional 50 spins, you will need to make a deposit of £10 and wager £10 on one of the daily jackpot games.
Terms You Need To Know
Your first 50 free spins are available without a deposit and will expire after seven days. Your further 50 free spins will be available after depositing and wagering £10 on the selected games — these will also have an expiry of 7 days.
Payments made by E-wallet methods are not eligible for the promotion.
Pros
Free spins with no deposit or wagering
Further free spins when depositing £10
Potential to win big jackpots on the free spins
Cons
Paypal is not eligible for the further 50 spins promotion
7-day expiry on spins
Chapter 4
Betfair Poker Offers
Wait a second, poker?
Does Betfair have Poker?
Yes!
Check out the offer details!
Betfair poker is one of the leading online poker sites in Europe. It offers cash games, tournaments, SNG's, and many variants for games such as Texas Holdem and Omaha.
Below is the leading poker promotion for all new players.
Claim £40 In Free Tickets
This Betfair poker bonus is for new players only and is available for 30 days following the creation of your account on the website.
You will need to download the poker software, sign up, create a player nickname, and make a real money deposit into your account.
You can then locate the promotional offers in the 'Missions' area of the website, where you will be able to opt-in for either £20 or £40 worth of tournament tickets.
You will need to earn 25 points to receive the £20 tournament tickets and 50 points to receive the £40 tournament tickets.
These tickets are released once you earn points, as the image below explains.
For every £1 you pay in rake, you will earn 25 points — This is a decent promotion that's easy to clear for the bonus.
What is Rake?
The rake is what the house takes when playing poker games.
For example:
£10 single table tournaments will cost you £10 to enter and £1 rake. The total cost to you would be £11.
So if you were to play this game — You would earn 25 points and already be eligible for the free £20 tournament tickets.
What You Need To Know
This promotion is available for 30 days after registering an account, and any tournament tickets you receive must be used within 30 days.
Pros
Easy to wager
Multiple tournament tickets
Free blind tickets for cash games
Cons
30-day expiry date on tournament tickets
Chapter 5
Bingo Offers
Bingo? Not too much of that?
Betfair is spoiling us!
Okay so how much can we get, and what are the conditions?
Let's find out!
Betfair Bingo is an exciting game offering you the chance to scoop progressive jackpot prizes and many more cash rewards.
In addition, like the other games, Betfair has some great promo offers for those looking to play bingo online.
Bet £10, Get 200 free tickets and £20 Slingo Bonus
This offer is available to all new players on the Betfair bingo platform. You will receive 200 free bingo tickets and a £20 Slingo bonus to play various Slingo games.
You will need to register an account and use the promo code "BINSGO" to get this bonus.
You'll also need to deposit using Apple Pay or a debit/credit card and play £10 worth of bingo games.
You'll then receive 200 free tickets after spending £5 and the £20 Slingo bonus after playing a further £5, so, in total, you'll have played £10 in bingo.
What You Need To Know
E-Wallet payment methods are not eligible for this promotion, and you will need to wager the Slingo bonus by 1x, which is pretty easy to do.
Pros
1x wager requirement on Slingo bonus is excellent
200 free bingo tickets without any wagering requirements
Bingo tickets released after just £5 worth of playing
Cons
No Paypal
30-day expiry on bingo tickets and Slingo bonus
Chapter 6
FAQ
Make sure you know the answers to the following questions
so you don't make any mistakes!
Here are the most frequently asked questions.
Below is a series of questions and answers you may have concerning any promotional bonuses and offers available on Betfair.
What should I do if I did everything correctly but didn't get the bonus?
If you have done everything correctly and haven't received the bonus, contact support via the live chat option, and they will enable your bonus.
Does Betfair have a referral program?
Yes, Betfair has a referral program where you can earn £10 for every player you refer. There is a maximum of five referrals allowed, and you must live in the UK or Ireland.
What are the sign-up requirements?
You must be at least 18 years old and live in an acceptable country to register for Betfair. You will need to enter the codes when registering or depositing to claim any promotional offers.
How do I use the Betfair promotion code?
When registering for Betfair, you will enter your promo code on the same page as your personal details.
Can I claim the bonus from the Betfair app?
Yes, simply register through
Betfair exchange app
and enter the promotional codes (if required) as you would on a desktop or laptop computer.
Is Betfair a good company?
Yes, Betfair is a well-respected and safe company. Numerous governing bodies regulate and license them, including the United Kingdom Gambling Commission (UKGC) and the Malta Gaming Authority.
Chapter 7
Which Betfair Promotion Bonus Will You Use?
Let us know in the comments below!
We look forward to hearing your feedback!
So which bonus did you choose?
The good thing about these offers is that you can use some of them in tandem with each other. For example, you can use either the Sportsbook or Exchange promotion and the Casino, Bingo, and Poker offers at the same time.
As long as you're a new customer to either of those categories, the offers will be eligible for you to use.
A word of warning, though.
Remember that most of these come with time limits, so bear this in mind before signing up for them.
It might be a good idea to use one bonus offer, clear the wagering requirements and then move on to another, or simply use the one you need right now.
When writing this Betfair promotion review, I aimed to provide you with multiple promotional offers that would get you off to a winning start.
I wanted you to use them to get some free money, games, tickets and have some fun along the way while playing the games.
Hopefully, these bonuses are perfect for you.
All that is left for you to do now is to get out there and start winning.