Do you have accounts with multiple bookmakers and also have access to the Betfair Exchange?
Well, we have good news for you!
You can use all your accounts to increase your profits and net winnings.
The most important things are having the right approach, good budget management, and making the correct calculations.
In the following article, we will compare exchanges with traditional bookmakers and show you how to use both accounts to increase your profits.
Chapter 1
Traditional Bookmakers
Here we'll cover:
• How exactly does a Bookmaker work?
• Which methods and techniques are used by bookmakers to make consistent profits?
Let's find out!
One of the most enticing elements of sports betting is the opportunity to make regular profits.
Of course, you need to know what you're doing and use the appropriate techniques, but is it possible?
In the long term, over 80 percent of bettors lose money.
This is due to many factors, one of which is that bookmakers employ specific tactics to ensure they have an advantage.
Overcoming this advantage is the key to successful sports betting. Bookmakers are your adversaries, and you must learn how to beat them. But, before you can accomplish that, you need to understand how they are able to generate money.
You probably know what a traditional, standard bookmaker is and how it works.
Sky Bet, Paddy Power, and Bet365 are well-known brands, and betting on their websites is straightforward.

Bookmakers often make their money by charging a 'vigorish', or 'the vig', on their customers' bets rather than placing bets themselves.
Sometimes bettors may even borrow money from them.
A bookmaker (bookie) can be an individual or a company. To play at a typical bookmaker, all you have to do is place a bet at the odds they give you.
Of course, this means that you're up against the bookmaker.
And you're up against the bookie no matter what market you're betting on, whether it's football or multiple bets on horse racing. If your wager pays off, you win; if not, the bookmaker wins.
How Bookmakers Make Money?
They determine the appropriate betting pricing (vigorish, the vig)
Set and change the betting lines
Eliminate risk by balancing the books
Use bettors' emotions and a lack of knowledge to their advantage
Chapter 2
Betting Exchanges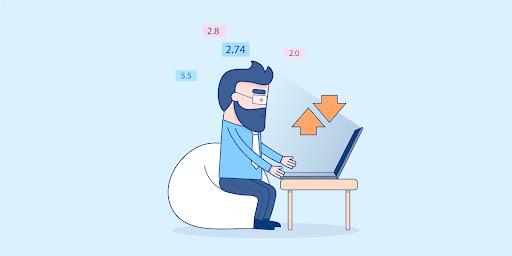 • So how does the exchange work?
• Who takes our bet?
• How much commission do we pay?
Read on to find out!
A betting exchange is a platform where bettors can place wagers on the outcome of certain events. It differs from traditional sports betting exchanges in that it allows customers to bet against each other rather than against a bookmaker.
This means that customers can act as bookmakers, setting odds on events, or as customers, maintaining odds set by other users on the exchange.
A betting exchange, unlike traditional bookmakers, takes no risks by going head-to-head with gamblers on the markets.
At the same time, a betting exchange provides customers with a platform to match bets against each other and takes a modest commission on profits.

This example demonstrates how a betting exchange works:
You're watching Federer vs Nadal with a buddy, and you decide to make a wager. He thinks Nadal will win, but you believe Federer will triumph.
So he'll give you odds of 2.00 that Federer will lose.
You both agree to place a £20 bet. Your friend will give you £20 if Federer wins. If Nadal wins, however, you lose and must pay your mate £20.
The main difference between exchanges and bookmakers is that the exchanges offer lay betting.
This entails betting that a team will lose rather than win. Every wager put on a betting exchange is effectively two bets: one for the pick to win and another for the identical selection to lose.
Chapter 3
How does a betting exchange differ from a bookmaker?
Let's check:
• Why you should choose the exchange over a traditional bookmaker?
• How much commission Betfair charges?
Here we go!
When you're new to betting, you may find it hard to understand the differences between the many alternatives available.
Using betting exchanges and bookmakers is a typical source of misunderstanding.
However, both have their place in different contexts, so we'll try to clear up any misconceptions so that you can get the most out of using both exchanges.

As a peer-to-peer platform, a betting exchange operates similarly to a stock market, with users buying (backing) and selling (laying) bets on certain outcomes.
Advantages of the Betfair Exchange
Better odds
When you place a bet with a bookmaker, you can only bet at their odds, which include their margin – and they may be as high as 20% – meaning that they price the markets in their favour with unfair odds.
Learn how to calculate betting margins and how they reduce your chances of being profitable.

Other users on the Betfair Exchange act as bookmakers. As a result, the odds on offer on the exchange are frequently better than those offered by the bookies, which means we make more money when we back winners or lay losers!
Lay Betting
A betting exchange, as mentioned earlier, allows users to 'back' and 'lay' on an outcome.
This enables users to trade positions on the exchange as a broker does, analysing the market while the event is in-play. In contrast, with a bookmaker, you can only place back bets.

Laying is one of the most powerful features of the Betfair Exchange, and it opens up a whole universe of possibilities.
We, the punters, can use it not only to bet against a pre-race outcome but also as a kind of cash-out and partial cash-out to either lock in profits, reduce losses or withdraw funds.
No Limits
Although betting limitations are typical of all bookmakers, they vary depending on your betting history and the market you're playing in.
So, suppose you're betting on the most popular sporting events, such as Man Utd vs Chelsea.
In that case, the limits will be much higher than in the lower leagues.
However, on the exchange, there are no betting limitations.
Instead, the amount you can bet is determined by liquidity or the amount of money available for betting in a given market.
Guarantee a profit
The majority of online bookies allow you to cash out your winnings, but on the Betfair Exchange, you can go even further.
When you cash out with a bookmaker, you're laying the result of your initial back bet in order to cash out your profit or loss.
However, on the Betfair Exchange, you may lay whenever you want for as much as the market allows.
You can trade out – place a wager on the opposite outcome of a bet you made earlier – since the exchange allows you to back and lay.
This can be used to lock in profits, reduce your risk, or cancel a previously matched bet on the same market.
In addition, you need to be mindful of the commission.
Betfair is unconcerned about whether we win or lose on the exchange, and the reason for this is due to the platform's main flaw: commission.

Betfair charges a 5% fee on all winning bets placed on the exchange, which can cut your net winnings over time.
However, the fee that Betfair charges its customers can fluctuate over time due to a discount rate.
The discount rate is dependent on the number of Betfair Points you earn and reduces the amount of commission you pay Betfair.
Unless Betfair's identity and verification criteria are met, the discount rate is capped at 20%.
Chapter 4
Traditional Bookmakers or Betting Exchanges? – Which one should I choose?
What are the key advantages of bookmakers that make many people continue to use them?
Find out why using both options will increase your profits.
Here we go, then!
We have already learned about some of the advantages of the Betfair exchange and bookmakers, but does that mean you shouldn't play at traditional bookmakers?
Of course, you should. It all depends on the approach and our expectations.
Bookmakers also have advantages, and these include.
Extra Promotions
Punters have learned to regularly expect large free bets, increased odds, and other offers.
They're inclined to search elsewhere if they're not available.
Bookmakers often organise special promotions, especially when a major sporting event such as the World Cup or Champions League is coming up.
Bookmakers' promotions have a lot of value, which is one reason why they are still so popular.
Boosted odds on selected events
Boosted odds, like the previous point, are one of the most common benefits offered by bookmakers.
To increase betting activity before a match, a bookmaker may raise the odds for a particular market.
This can significantly enhance a bettor's profit margin. However, betting exchanges are unable to increase odds owing to the nature of their strategic model.
Chapter 5
What the differences exactly are?
• What are the main differences between a normal bookmaker and an exchange?
• How to use it and which one is better?
We are about to find out below!
You should also be aware that the key differences between traditional bookmakers and betting exchanges are as follows:
An exchange is a platform on which you compete against other participants. Yet when you use a typical bookmaker, such as Betfair Sportsbook, you are betting against the bookmaker.
Unlike traditional bookies, betting exchanges charge a fee on winning bets.
On a betting exchange, you may place a lay bet, which implies that you're betting on something that will not happen. At a regular bookmaker, there is no such option.
So, let's go back to the main question in this article: which is better – bookmakers or betting exchanges?
As you can see, each betting model has its own set of advantages and disadvantages, and whichever you choose is highly subjective.
However, it usually comes down to how you utilise your money.

The Sportsbook is probably the most straightforward website to use. You don't have to establish or match odds; all you have to do is play the odds that the bookie offers.
In many situations, you'll also discover a far more extensive range of sports to bet on and markets to play.

When placing bets, I prefer to use a combination of bookies and betting exchanges.
If I had to choose just one, I'd choose a betting exchange, but for experienced players, there is a place for both.
Many strategies for making money, or indeed a living, from betting, involve betting exchanges and bookmakers.
For example, matched betting on Betfair Sportsbook and the exchange is a strategy that involves both a sportsbook and the exchange bet.
By doing this, you can ensure that you make a profit regardless of the outcome.
Chapter 6
FAQ
Have you already known all the differences and advantages?
We will still answer your most frequently asked questions!
And here they are!
Who set the odds in the betting exchanges?
The odds for each event and market are determined by the players on the exchange.
How high are the commissions on the exchanges?
Commission rates at Betdaq, Ladbrokes, Smarkets, and Matchbook are 2%, while Betfair's commission starts at 5% and down to a low of 2%.
Can my exchange account be limited?
When you bet on sports betting exchange, your account is unlikely to be limited.