Many consider the Betfair Exchange to be the number one betting exchange, which is unquestionable, especially regarding the number of available betting markets and liquidity.
However, situations arise where Betfair is not available due to various restrictions.
Or, maybe you are annoyed by the commission charged by Betfair, which can be as high as 7% in some countries.
So what are the alternatives to Betfair?
As experienced traders who deal with trading every day, we will introduce you to the best exchanges sites like Betfair in the following article.
Short answer: Orbit Exchange is the best alternative to Betfair. Comparable liquidity, range of betting markets and usability of the website undoubtedly make OrbitX the best option.
Chapter 1
Why Betfair is the Best Betting Exchange
What is Betfair and why do we like them?
What are the disadvantages of the Betfair Exchange?
In which countries can I not open a Betfair Exchange account?
Let's find out!
The Betfair Exchange is an exchange that allows betting between their members and it is considered the most significant and best betting exchange primarily for two reasons:
The vast number of betting markets available
Excellent liquidity on all betting markets
These two factors are why Betfair crush the competition.
Liquidity and range of betting markets are equally important because when trading, you want your bets are taken quickly, and on the betting markets you want.
What do we not like about Betfair?
Mainly their commission rate.
2-5% for United Kingdom / Ireland / Italy / Gibraltar / Denmark / Malta
7% for Albania / Serbia / Armenia / Croatia / Monaco / Montenegro / Slovakia
6.5% for all other countries
These commission rates are high, especially compared to the competition who mainly charges a commission rate of 2%.
Geolocation restrictions can also make it difficult for some people to use the Betfair Exchange.
Which countries does Betfair not allow you to register an account in?
Below you will find the current, complete list, although please note that it may be updated.
Canada / China / Cote D'Ivoire / Cuba / DR Congo / Eritrea / France / Greenland / Iran / Iraq / Israel / Japan / Lebanon / Libya / North Korea / Portugal / Somalia / Sudan / Turkey.
Chapter 2
Our TOP-3 Alternatives to Betfair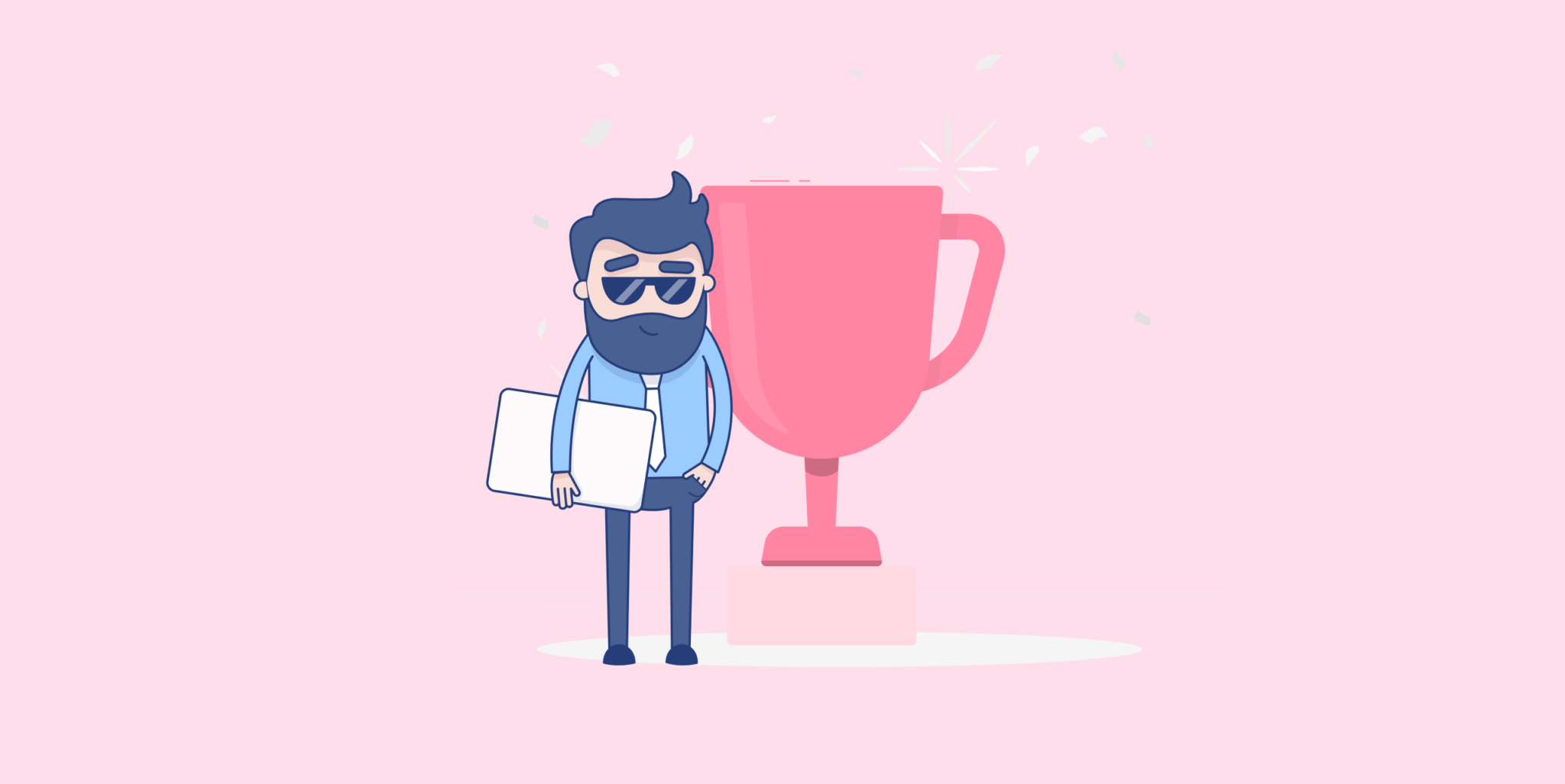 What has the biggest impact when choosing the right exchange?
What is the best alternative to the Betfair Exchange?
How do Orbit, Smarkets, and Betdaq compare to Betfair?
We will answer these and other questions below!
Here we go!
Orbit Exchange
Orbit Exchange, powered by Betfair, is a solid and creative betting exchange.
Since 2017, it has provided a wide choice of betting markets, high liquidity, and bet acceptance speed that is on par with the experience and service provided by the Betfair Exchange.
Considering all these positives, it's pretty effective and close to the same experience as you would receive at the Betfair Exchange directly.
In which countries is Orbit Exchange not available?
Orbit Exchange restricted countries include the United States, the United Kingdom, Sweden, and France via BetInAsia, and the United States, the Philippines, Singapore, and Portugal via Asianconnect.
What does BetInAsia or Asianconnect mean?
These two companies are brokers that provide easy access to the various exchanges.
A broker, also known as a sports broker, bet agent, or bet brokerage, offers you a single account from which you may pick and place the best odds from numerous bookmakers and betting exchanges.
Both companies are entirely legal and licensed and do not charge any commissions.
You can create an account and take full advantage of Orbit Exchange with them.
Why Orbit Exchange?
Orbit Exchange charges a fixed commission of 3%. Based on other exchanges, the commission is at a standard level.
However, what impresses most at the Orbit Exchange is the liquidity – it's comparable to the Betfair Exchange and far better than Matchbook or Betdaq.
Plus, Orbit offers a vast number of live and pre-match markets, giving you a fantastic choice.
Again, the range of betting markets is comparable to the Betfair Exchange, which is another huge advantage.
Experienced traders know that liquidity and the range of betting markets are the most important factors when choosing a suitable exchange for trading, and that's why Orbit Exchange is the right choice.
Orbit Exchange is undoubtedly the best Betfair Exchange alternative – if you can't use Betfair, try Orbit Exchange!
Smarkets Exchange
Smarkets is a London-based sports betting company that processes billions of pounds in traded volume each year.
They have two primary products – the Smarkets Exchange, a sophisticated betting exchange and prediction market platform, and SBK – an app that provides industry-disrupting odds by pulling prices from the exchange and displaying them in a slick sportsbook interface.
In which countries is Smarkets Exchange not available?
Residents of the following countries cannot register as account holders with Smarkets:
Australia, France, Hong Kong, Switzerland, China, South Africa, Denmark, Czech Republic, Belgium, Turkey, the United States, Italy, Portugal, Russia, Belarus, Ukraine and Kazakhstan
In addition, U.S. residents are also prohibited from using Smarkets, even if they are located in another jurisdiction.
Using the Smarkets Exchange does not require any broker – you can directly create an account on their website and trade as you wish.
Why Smarkets Exchange?
There's a reason Smarkets Exchange came in second place in our ranking of betting exchanges, where we considered independent companies where a broker is not required.
They were singled out primarily for their liquidity and betting markets, and as we know, they are the vital components of trading.
The Smarkets welcome bonus may not be the best on offer, but don't let that discourage you from opening an account.
Smarkets offers excellent liquidity, allowing you to get your bets on quickly, and on the markets you want.
They offer an excellent range of events comparable to the Betfair Exchange, including lower leagues.
The screenshot above highlights this – Smarkets covers lower leagues in Egypt, Kenya, Algeria, and many more.
In conclusion, Smarkets may not be as good as the Betfair Exchange, but it is well worth having an account.
Their commission on winnings is only 2%, the liquidity is at an excellent level, the welcome offer is satisfactory – what more do you need?
Here is you may find our comparison Betfair Exchange vs Smarkets Exchange.
Betdaq Exchange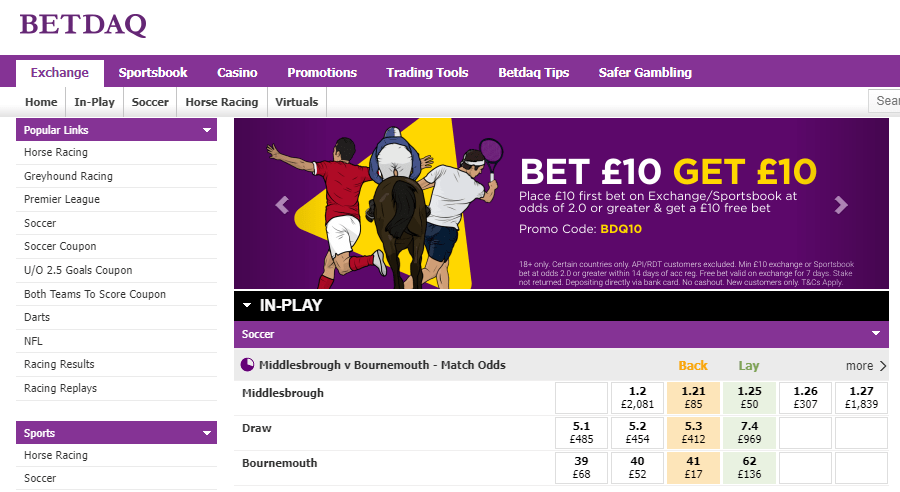 Global Betting Exchange Alderney Limited (GBEA), whose registered office is in St. Anne, Alderney, operates under the brand name Betdaq.
GBEA was initially part of the Global Betting Exchange (GBE) group of companies, which was formed in 2000 by renowned Irish businessman Dermot Desmond, who had the concept of building a website where fans could bet against each other over the internet.
Betdaq is the second largest betting exchange provider, accounting for around 7% of the market.
Betdaq allows participants with opposing views on the expected result of an event to compete by betting against each other.
In which countries is the Betdaq Exchange not available?
Residents of Spain, France, Germany, Russia, Serbia, India, Pakistan, China cannot register with Betdaq Exchange.
Using Betdaq Exchange does not require any broker – you can directly create an account on their website and trade as you wish
Why Betdaq Exchange?
Betdaq secured third place in our ranking due to the liquidity available on their betting markets being at an average level.
Liquidity is critical when choosing a suitable exchange – it's like buying a car and checking the mileage and price.
The range of markets at Betdaq could also be improved – you will find the main sporting events with good levels of liquidity, but you won't find a lot of events from lower sporting leagues.
When it comes to commission, Betdaq's starting rate is 5% but does go to 2%, and there is also the possibility to get 0% commission.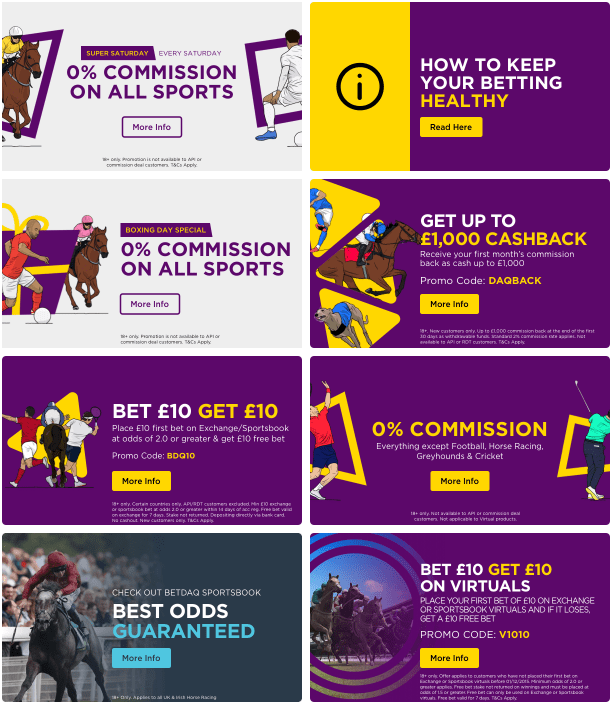 One huge positive of Betdaq is the vast number of promotions it offers to its customers, and these promotions change regularly – check out their current promotions via THIS link.
Betdaq may not top our best exchanges list, but it deserves attention because of its good liquidity and a massive range of excellent promotions.
If you haven't opened an account with Betdaq yet, we recommend doing so!
Here is you may find our comparison Betfair Exchange vs Betdaq Exchange.
Chapter 3
Conclusion
Which exchange has proven to be the best alternative?
Is it worth opening accounts on the other exchanges?
Let's summarize the information gathered in the article above!
Here they are!
As you know, Betfair is the best betting exchange by far, but sometimes we have to choose an alternative.
And if you do need an option, we recommend using BetInAsia or Asiannconnect brokers, allowing you access to the Orbit Exchange.
Orbit offer liquidity comparable to the Betfair Exchange, plus the range of betting markets offered is also at an excellent level.
The first place in our list of Betfair alternatives undoubtedly, and rightly, goes to Orbit Exchange.
As for the other alternatives, both Smarkets and Betdaq are worth considering as suitable substitutes for the Betfair Exchange.
Although they do not offer the same level of liquidity as the Betfair Exchange and Orbit Exchange, the level is at a sufficient level but it should satisfy everyone, particularly beginner traders.
The only downside may be geolocation restrictions, with residents of certain countries not allowed to register accounts – double-check the lists we have created to see if you can open an exchange account.
The best alternatives to the Betfair Exchange are:
Orbit Exchange
Smarkets Exchange
Betdaq Exchange