There comes a time during sports trading on Betfair when you realise that you have enough budget to start taking it seriously.
Then, using very low-risk and profitable strategies in the long term, you may decide to automate the whole process.
If you are making money with scalping or swing trading, time and even small price movements are very important because, with the proper budget, even these tiny movements can bring significant profit.
And this is the time to think about using Betfair software to streamline the whole process.
What exactly will the software help you with, though?
What are their capabilities? Which trading software performs best?
Of course, there are as many apps for trading as there are answers to the above questions.
So check out our article on automated trading software below!
Chapter 1
How useful is Betfair software?
Trading software can be compared to using an accountant. For example, suppose you have a company.
In that case, you pay an accountant to do all the calculations, and you only do the finishing touches, such as paying your contributions or, as in the case of trading, exiting the market.
Trading via software is not only about automating processes. It also means comfort in using, easier access to markets and more possibilities.
In addition, most of the applications presented below have the opportunity of additional protection of your funds by entering limits, which the program will not exceed and thanks to which you will not lose your bankroll.
What else have programmers prepared for us?
How can the software improve our work and experience?
Which ones perform best and why?
We answer these and many more questions in the following overview!
Chapter 2
Best Betfair Trading software
The review is based on an intensive week of checking and analysing the various apps available on the developers' websites. Therefore, you can be sure that the ranking is created reliably and honestly.
Let's get down to business!
What did we consider, and what is the ranking based on?
First of all, we focused on reliability and security. We don't want our Betfair account details to fall into the wrong hands, do we?
For all the lazy people who don't like to read every review, we would like to communicate that the best trading software for Betfair would be Bet Angel.
Would you like to know what made us choose this?
Read the individual reviews below, and you will find the answer!
Chapter 3
Betfair software for Android and iOS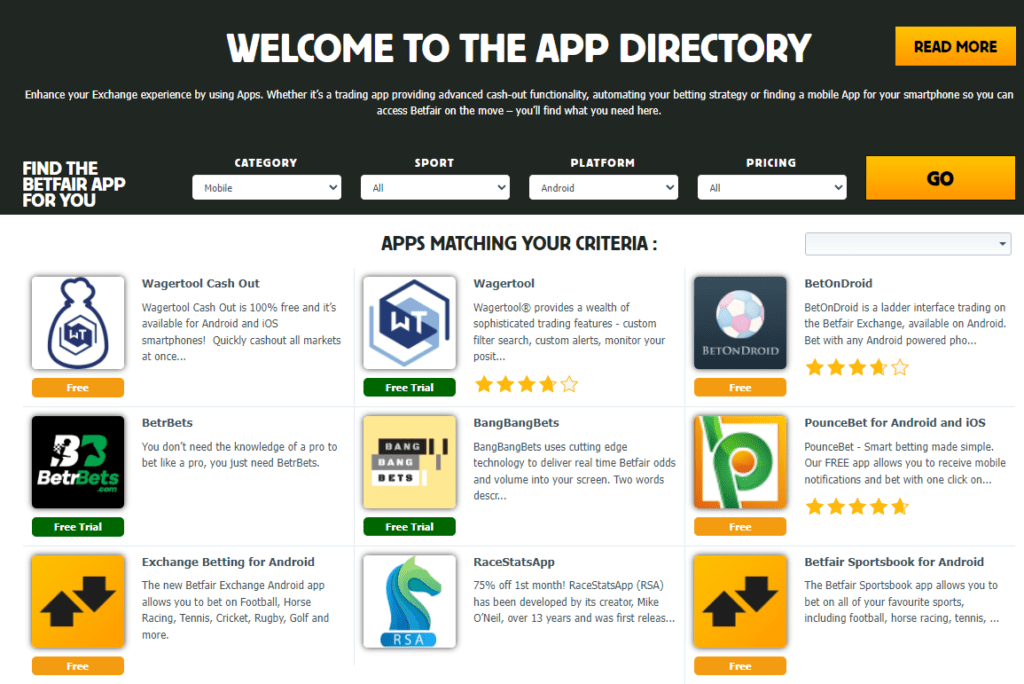 Trading apps can be helpful, but only in some cases. It is worth remembering that setting up automated processes can be quite a challenge on our phones.
It will be much easier to do it on a desktop computer. However, if you want to control your bets, an app can be helpful if, for example, you are away from home.
In this case, such Betfair Exchange Betting for your phone will help you with this.
What other apps can you find? We'll just make it easy for you and post a link to the entire library of apps for both Android and iOS.
Moreover, thanks to the search filter, you will be able to decide whether you want to see full free apps or are willing to pay for those that offer exciting features such as RaceStatsApp, explicitly designed for horse racing.
Chapter 4
How to choose the right trading software: Tips from the Expert
You've written all the trading services reviews that were done by TheTrader team, but what to do next? How to choose the best one for yourself? We've come up with a few ideas for it.
Stay tuned!
Focus on your strategy
This should be your priority. Before you make your final choice, check how your software will perform when you apply your chosen trading strategy.
On some applications, it may be more problematic and on some less. But we want to make things easier and more efficient, right?
Thanks to the free trial version on almost all trading applications, this should not cause you any problems.
Join the community
Rome wasn't built in a day. So you won't be able to take full advantage of the features right away. It takes time and practice.
Also, if you have any problems, where will you look for answers?
Therefore, look for a forum or blog where you can get help. Find people or posts that relate to your problems and deal with them quickly.
Never bite more than you can chew
Gather an appropriate budget. It can't be that 20% of your budget pays for software. That is irrational.
What's more, the cheaper the software, doesn't mean it's inferior. You may find that the ones for only £6 per month will be entirely sufficient for you.
So again, think about what markets and where you want to trade precisely.
Conclusion
Choosing the right software for each person is an individual matter. For some, £6 software may prove to be entirely sufficient, while for others, the more expensive ones will not affect their budget and complement their expectations.
When choosing the final one, you should consider whether the company is legally registered and make sure that the installation of the application is entirely safe and our data will not fall into the wrong hands.
Only one of the above apps did not meet these requirements.
Which app do you use, and why did it become your choice?
Let us know!