Matchbook is a very familiar name in the sports trading industry. Since 2004, the brand has majored in the sports betting market, offering you the opportunity to place lay and back bets on your favorite sports.
An interesting thing about Matchbook betting exchange is how modernized their services are, compared to what you would think of a regular exchange. And in addition to their visually pleasing website, they have a mobile app. The Matchbook app is available on both Android and iOS platforms.
It comes fully loaded with features that website users enjoy, and maybe even more.
This Matchbook app review is dedicated to the Matchbook mobile app, and you will learn all about it, starting from getting it on your device.
So let's get into it immediately.
Chapter 1
How to Download Matchbook App
Where can you find the application?
How do you download it?
What are the basic requirements?
Let's find out!
As stated earlier, whether you use an Android device or iOS, you will be able to get the Matchbook mobile app. In addition, you will find the app visually appealing as the developers did a great job in making it attractive.
If you stay in certain regions, you may not find the app in Google Play Store or App Store, and it is no cause for fuss. In some countries, especially outside the UK and Ireland, the app is not available in their stores; however, Matchbook has you covered.
The brand recognizes this problem, and they have provisions for individuals with this issue to get the app directly from their website.
If you are still unable to install the app, your device is not enabled to install from unknown sources. Simply locate the setting on your respective devices and change this configuration to successfully install it on your phone.
When you finally install it, you will be able to enjoy several features like 0% commission, cash out, trader view, and many others.
How to Download An Android App
We have you covered if you use an Android device and can't figure out the exact way to get the Matchbook app android on your device. Below is a step-by-step guide on how to install it.
Visit the Matchbook official website.
Scroll to the bottom of the page till you find 'Mobile Applications.'
On the Next Page, under 'Matchbook for Android (Other),' click on the 'here' that is colored blue.
You should get a prompt for the Matchbook app download immediately after, so click 'Download.'
Install it, and you are good to go when your download is done.
Requirements
Luckily for Android users, the Matchbook mobile app is not excessively demanding. It is compatible with software version 5.0 and above.
However, the app size is 53.87 MB, and we advise that you have enough space on your device so that your installation is hitch-free.
How to Download iOS App
iOS users are not exempted, and getting the app on your iPhone or iPad is not tasking. Let us run through the steps briefly.
On your iOS device, visit the Matchbook official website.
Scroll to the bottom of the page and look for 'Mobile Applications'
On the next page, under the subheading 'Matchbook for iPhone', click on the 'here' that is colored blue.
It will take you to the App in the iOS store, where you can install the app directly to your device.
Requirements
The iOS app size is 40.3 MB, and it is compatible with iOS 12.0 or later. For MacBooks, it requires macOS 11.0 or later and mac with the Apple M1 chip.
The app is free in the store, and you should be able to install it without any issues as long as you have enough storage space.
Chapter 2
Matchbook Mobile App Top Features
What promotions are there?
How do you contact support?
How do the odds compare?
Here we go!
We were not bluffing when we said the Matchbook mobile app contains great additional features. Let's highlight some of its top features.
Exclusive Inplay Features
Trading live is great, but it is even greater when you use a mobile app like Matchbook. This is because you can do one-click betting.
Ideally, before placing live trades on the website, you have to go through some series of loading and extra confirmation before it executes. Traders attribute to missing their perfect entries due to the unnecessarily long process.
With the mobile app, things are a little different. You don't have to go through loading screens when trading live. So long as you have a good internet connection, you will have everything done promptly.
Cash Out
Cash-out is a top feature missing in several sports exchange apps, but not Matchbook. As a result, you don't have to give your profits back to the markets when you can take partials.
Instead, cash-out allows you to lock a bit of your profit by closing out a portion of your trade. This feature is fully functional on the mobile application.
Push Notifications
Notification on trades and happenings in the market is not something you can get on the website. However, if you would love it, the website comes in handy.
You can enable certain notifications to keep you alert when necessary. This next-level feature helps you catch up with things you would normally miss out on.
Trader View
The trader view feature allows you to have a wider market view. For example, rather than being able to view one option at a time, you can view several other odds and prices simultaneously.
This feature is greatly under-appreciated, and it allows traders to discover the best option for each game.
Fast Login
If you have ever used the Matchbook website, you will admit that having to input your details to log in each time could be frustrating.
With the mobile app, you can get over the frustration of this repetitive process. It graces you with what they term as fast login.
You can log in with either fingerprint or face ID. Your option depends on the device; if your mobile device does not have a fingerprint or facial recognition feature, you can't enjoy it.
Chapter 3
Matchbook Bonus Program
In this section you will find out:
Is there an extra bonus?
Will downloading the app release the bonus?
Let's go!
Matchbook does not shy away from giving its customers offers and bonus incentives. The mobile app users enjoy every bonus that website users enjoy, so you are not missing out on anything.
They have a welcome offer where you can get up to £30 back on your losing bet.
If your first bet on the exchange is a loss, you get a £30 refund. This offer is only valid for your first bet, so you should go all out if possible.
A few terms and conditions are attached to this bonus, but they are not excessively demanding. The catch is that the losing bet has to be a minimum of 1.8 odds, and you need to deposit at least £25 to qualify for the bonus.
Asides from that, there is nothing more far-fetched that will stop you from enjoying your refund.
Are There Any Bonuses for Downloading the App?
Matchbook does not offer any bonus for downloading their mobile app. However, app users are free to enjoy several other bonuses.
A great example is their 0% commission bonus. New players could enjoy a 0% commission for 90 days when they join the exchange.
To get this bonus, you need to use the bonus code – COMMFREE90.
Chapter 4
How to Register Through a Mobile App and Get Bonus
Check out the exact process of registering a Smarkets account through the app.
Do not make any mistakes, create account and get your bonus now!
Here we go!
The mobile app registration is not any different from the website. With the easy layout, you won't have difficulty getting things set up if it is your first time on the exchange. Let us run through the process step-by-step:
On the mobile app, click the 'Log in' icon on the top right.
You will find a 'Join Now' button below 'New to Matchbook?.' Click on it.
On the next page, you will be prompted to fill in some details such as your name, date of birth, email, and some other necessary information.
After completing the details accurately, double-check and click the 'Next Step' button below the page.
After filling in your details on the next page, click on the create account button below. And you are good to go!
Chapter 5
How To Make A Deposit
In this section you will learn:
What is the minimum deposit?
How do you make a deposit?
Check it out!
After signing up and successfully creating your account, the next thing is to make a deposit. Let us go through the process to deposit money on your Matchbook mobile app:
On the Matchbook mobile app homepage, click on the profile icon on the top right.
You will find the deposit button next to the withdraw button on the next page.
Because it is your first time, you will need to accept the prompt on the next page. So click on 'Agree & Continue.'
For first-timers, you need to specify your limits. These steps are in place to control gambling addiction, so be sure to fill it sincerely. After the first time, this prompt won't disturb you again. Specify the required details and click on 'Continue & Deposit.'
Next, you should be on the main deposit page. Individuals in the UK are not allowed to use cards. If you are outside the UK, input the necessary card details, specify the amount you want to deposit, and click on 'Deposit' to finalize the transaction.
If you cannot use a card deposit, you can opt for other options like Skrill or Neteller. Then, you only need to fill in the required details and specify the amount you want to deposit before hitting the 'Deposit' button.
You will successfully deposit money into your Matchbook account if you follow the steps. After that, you are ready to start betting in the exchange.
Read more: Matchbook withdrawal guide from TheTrader
Chapter 6
How To Place A Bet
Where to find markets?
What to press in order to place a bet?
Where do you enter the stake?
All about placing a bet,
here we go!
When you have money in your Matchbook account, there is nothing you are waiting for again. So let us see the steps to successfully place a back or lay bet on the mobile app.
The main page contains several markets available on Matchbook, and it is where you select what you want to bet on.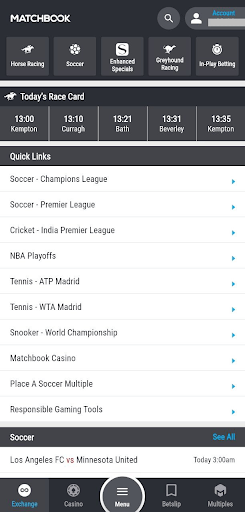 Let's assume you want to trade the horse markets; you will find 'Horse Racing' on the top left corner.
When you click on it, you will find the available races alongside their back and lay prices beside them in blue and red, respectively.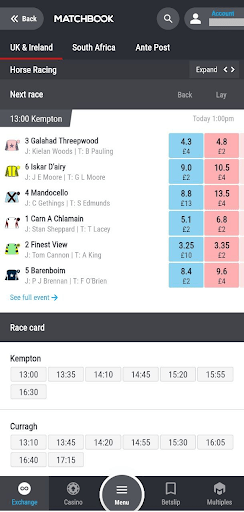 Let's use the first race as an example (3 Galahad Threepwood). If we want to back it, we will click on the blue with the 4.3. And if you want to lay, you click on the red with the 4.8.
If you click on the 4.3, meaning you want to place a back bet, you will see a little popup. Specify the odds you would love to back and state the amount you would love to stake. You will see your potential profits also. Finally, click on 'Place Bet' to finalize the process.
If you want to place a lay bet, you will click on the odds in red, which is 4.8 in this case. Next, you will see a popup asking you to specify your lay odds and how much you would like to stake. For whatever parameter to set, you will also find your potential profit. After specifying the necessary details, click on 'Place Bet,' and you are done.
Chapter 7
Matchbook Mobile Version
What is the difference between the mobile version
of the Smarkets website and the mobile app?
Check out our comparison!
Here we go!
The great thing about the Matchbook mobile version is that it is not different from the desktop variant. You are only presented with an optimized view on a smaller screen.
You enjoy the same bonuses and also the same betting options. However, with the mobile app, you can enjoy even greater features.
The user interface is responsive and easy to navigate, making it the best option for newbies.
| | |
| --- | --- |
| Mobile App | Mobile Version |
| Push Notification with alerts on upcoming events and offers | No push notification |
| Regular updates that demand download | No need to download updates as it is a web version |
| Accessible through a launchable app | Accessible on the web |
| It May consume a bit of storage space | Does not require any storage space |
Chapter 8
Overview
Should you download the Smarkets app?
What is it famous for?
Why is it good to have it?
Let's check out the summary!
We are finally drawing this Matchbook mobile app to a close, and the big question remains – Should I download this app? The easy answer is yes.
This app is fully loaded with features compared with other exchange apps. For example, the fast login feature that utilizes your fingerprint feature or face ID is not something you find in your regular exchange app.
The functional push notification is another feature that makes this app stand out from its peers. However, it would be nice to see Matchbook offer exclusive bonuses for mobile app users.
It would be good for the players and their revenue as more people would rush to download the application.
Overall it is a good app, and we can recommend it to any trader that is willing to give it a shot.
Chapter 9
FAQs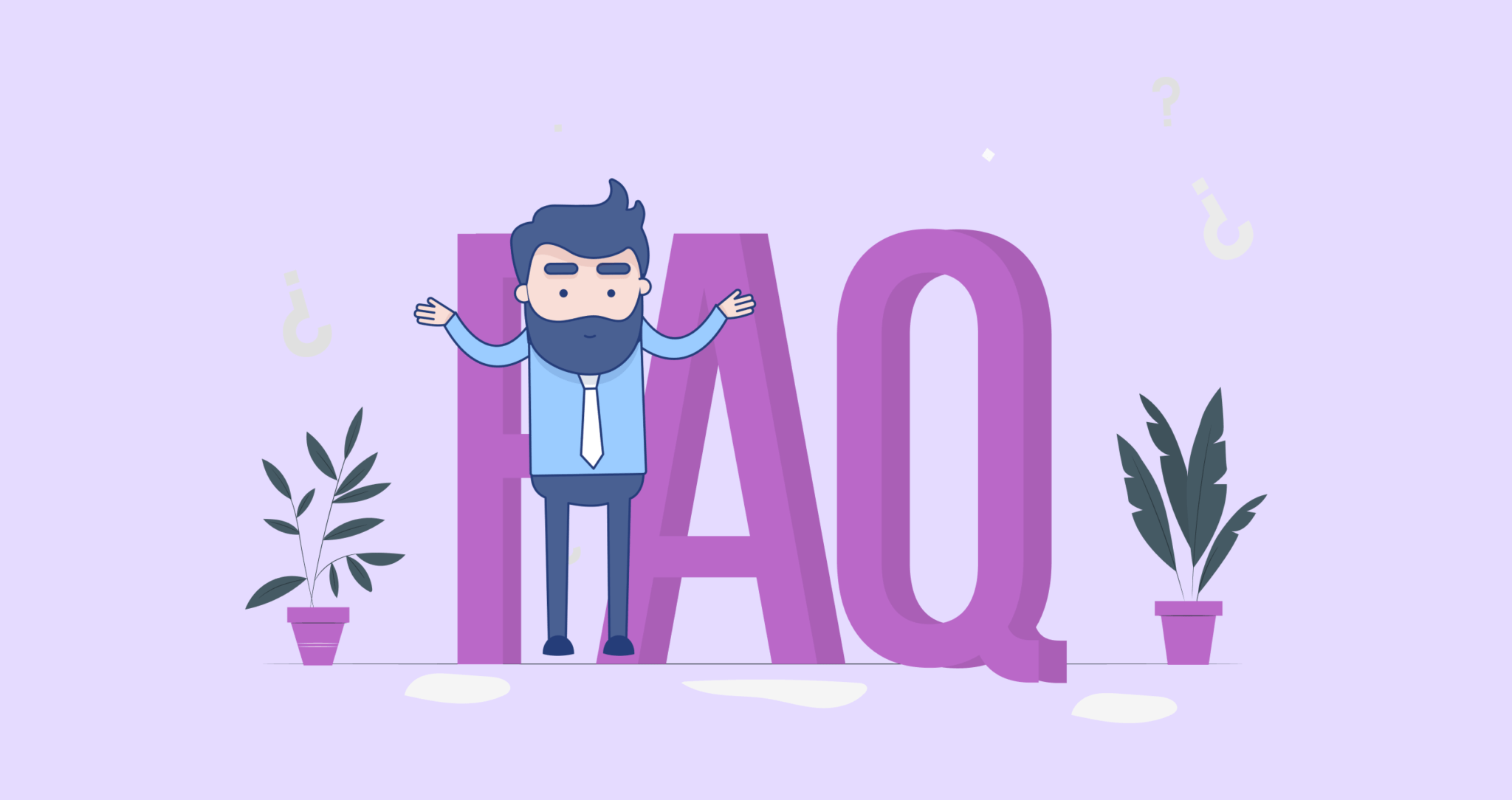 Haven't found the answer to all your questions?
No problem!
Check out the other most common questions.
There we go!
How to Download Matchbook Android App?
You can download the Matchbook Android app on their official website. We outlined the processes in this guide.
How to Download Matchbook iOS App?
You can also access the download button for iOS on the Matchbook official website. It would redirect you to the App Store, where you can install it.
Does Matchbook Have a Bonus for New Players?
Yes, Matchbook has a £30 refund bonus for new players that lose their first bet. You don't need any promo code to enjoy it.