The most exciting aspect of any trade is making a profit.
However, time and relevant information is vital aspect of effective and successful trading. This is because beautiful lifelong opportunities can be lost while you are away from your screen.
Yet, we remain human that can be preoccupied, either by work or family. Gathering relevant trading information can sometimes be an extremely daunting task.
Sometimes, you can miss several trading executions, but do you know you can have all these done within the twinkling of an eye?
Advent and the advancement of technology have been a blessing to humanity. Stressing yourself out while analyzing and gathering information can be very frustrating.
It can lead to low productivity and trading failure.
This is where Geeks Toy trading software comes in handy.
Geeks Toy is a trading software that allows you to trade with additional tools on betting exchanges.
It works primarily on Betfair. However, new updates have included Matchbook and Betdaq.
The software gives a competitive edge over a regular trader with its several arrays of features.
It provides real-time market data and speedy trading management.
It also has a training mode where players can learn and trade without risking their money. All these unique features can be accessed for free for 14 days.
After this period, you can subscribe for a license key which comes at £20 for three months.
In this comprehensive Geeks Toy review, you'll get to know more about the software as well as the different features it has to offer.
Chapter 1
What is Geeks Toy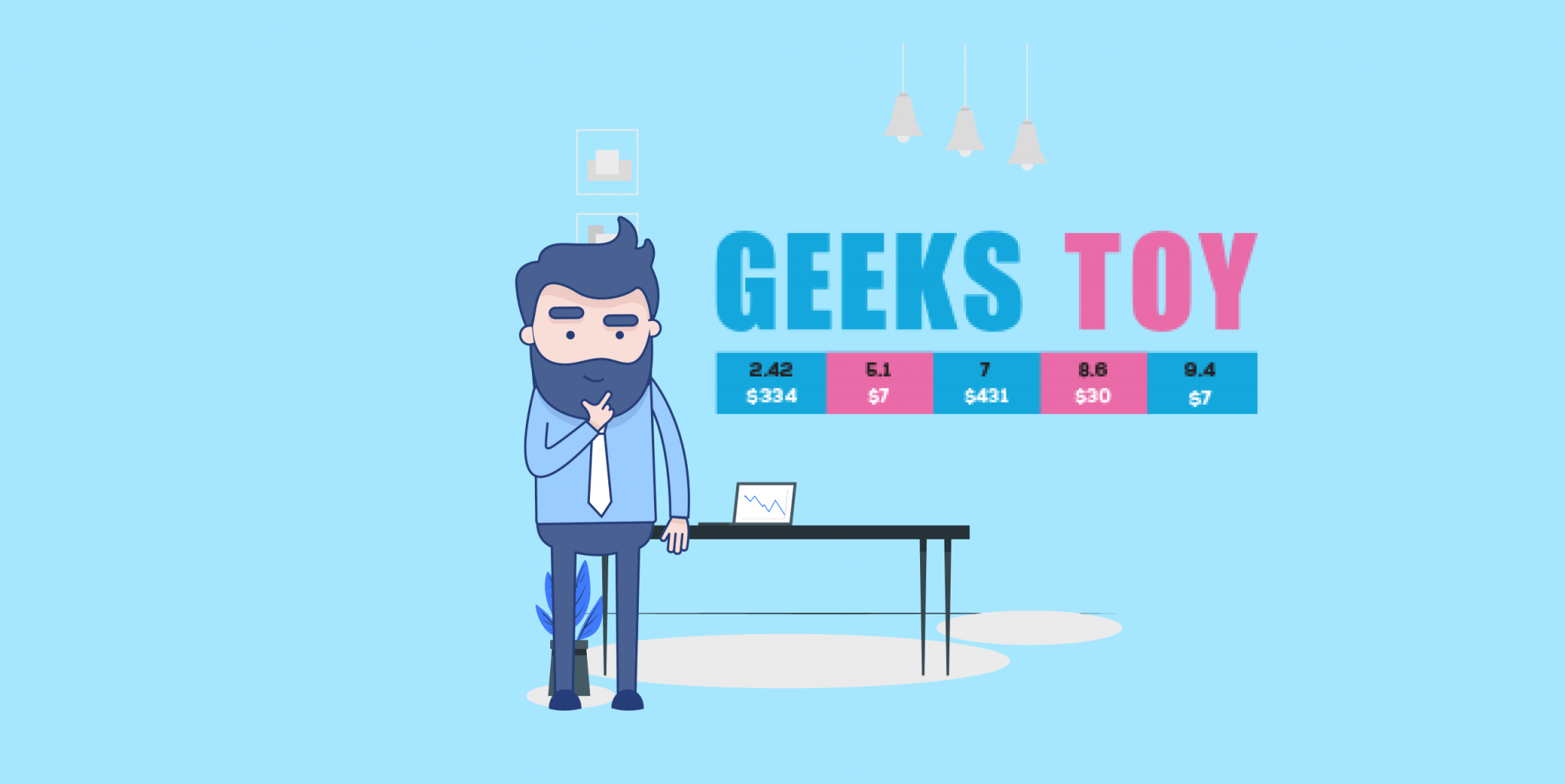 Geeks Toy is a third-party trading software that allows you to trade seamlessly and conveniently on Betfair Exchange.
The software provides traders, both newbies, and professional traders, with exciting cut-edging experience on the Betfair website.
Meanwhile, its usefulness is not limited to Betfair. You can use it on Betdaq and Matchbook as well. As part of a bid to improve the trading experience with access to in-depth market information,
Geeks Toy was founded in 2007. It was officially launched in 2009.
Geeks Toy can collate real-time data. It also gives access for traders to comfortably place, edit and cancel bets with a single click, a feature known as single click betting. It also allows you to monitor all your trades in a single well-arranged layout.
Like many traders have experienced, betting websites can be very hard to navigate.
However, Geeks Toy is programmed to simplify the large data on Betfair.
Also, speed is another beautiful part of the software. While it may take minutes to load heavy data on Betfair, Geeks Toy allows you to access real-time market data and charts within seconds.
Therefore, it keeps you up-to-date with price movements.
The software is user-friendly, easy to use, and easy to customize. You can choose any color or layout you want from your fingertip.
Chapter 2
How Does it Work
Geeks Toy works by connecting to your betting exchange and executing trade via its interface.
Before using the software, it is essential to link your Betfair, Betdaq, or Matchbook account to the software.
This is essential because the connection executes lay bets for the back bets you place.
The differences between BACK and LAY bets you can easily find in this article.
Meanwhile, you can monitor the connection to ensure it is stable to execute trades.
To protect your money and probably winnings, the software provides a stop-loss function that stops out trades and prevents total loss of money.
Generally, the interface is straightforward to use. You can start by getting yourself familiar with the training mode. There, you can place bets without using money.
You can also try out strategies and layouts.
However, winnings made from training mode cannot be withdrawn. It remains virtual.
The software comes with two types of interface; the ladder and the grid, which enables users to bet effectively. The ladder interface displays market data in a vertical array.
This interface gives a quicker overview to change in market data and price.
Also, it gives room to execute trades quickly.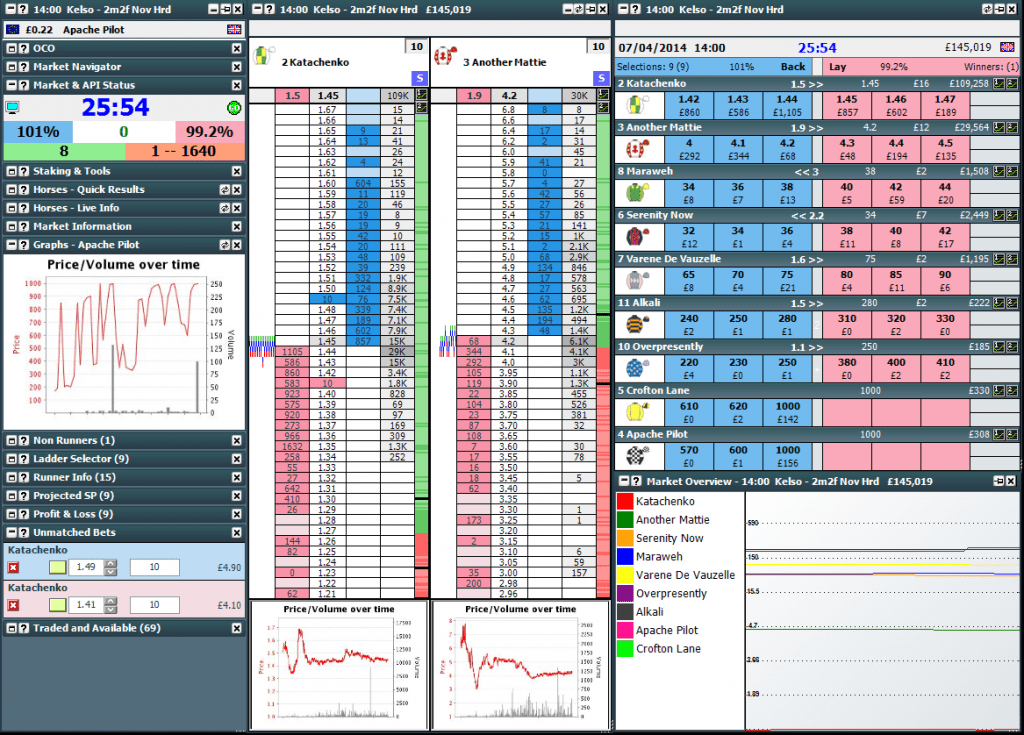 In the grid interface, the market data and prices are stacked horizontally. This interface gives you access to a regular betting exchange interface. In addition to this, the interface also comes with a one-click bet option.
Chapter 3
Pros and Cons of Using Geeks Toy
Over the years, Geeks Toy has emerged as the best trading software for the best fair. This is because of its extreme simplicity, affordability, and usefulness in increasing traders' P&L.
The table below summarises the pros and cons of the Geeks Toy software.
| | | |
| --- | --- | --- |
| | PROS | CONS |
| | Cost-effective | Limited Devices |
| | Free to customize | No money-back guarantee |
| | Reliable support | |
| | Light speed operation and execution | |
Pros
Cost: Apart from its effectiveness, Geeks Toy is also one of the most affordable and cost-effective trading software. With as low as £20, you are good to go for 90 days. Also, you have access to the full software freely for 14 days.
Customization: Another added advantage you get is that you can freely customize everything. From layout to frames, color, Geeks Toy provides the option to personalize the software fully.
Reliable support and helpful community: Although easy to use, setting up and using the software can be a problem for some traders, especially newbies. Geeks Toy provides reliable and responsive customer care support for its users. There is also a forum where you can ask questions or get help from existing forum discussions.
Light speed price refresh and execution: Another advantage of using Geeks Toy is the speed. With the software, you can place trades many times faster than a regular website user. Also, GeeksToy refreshes price and market data at 200ms. Therefore, you are unlikely to miss anything.
Loads of extra features: Unlike the regular website, Geeks Toy offers several additional features and trading tools to improve your trading experience. Also, there is an inbuilt position calculator, so you do not need to calculate every time.
Cons
Despite its great usefulness, the software has some downsides. However, none of the cons affect its effectiveness.
Limited Devices
One downside of the Geeks Toy software is that it is not fully available on Mac computers.
Although you can use it while running Windows on a Mac device, it does not fully support Mac devices.
Therefore, you can encounter problems while using the software. Also, the software is not available for android and iOS users.
Therefore, you cannot use it on any mobile device.
However, future updates may include these devices.
No money-back guarantee
Getting the exact quality you paid your money for remains one of the characteristics of good software.
Although the Geeks Toy software provides an excellent trading experience, there is no money-back guarantee if you are not satisfied.
However, you can always check out the features during the free trial to ensure it meets your expectations.
You might also like: Geeks Toy vs Bet Angel trading software compared by TheTrader
Chapter 4
Geeks Toy Automation
Automation is another unique feature of many trading tools.
It allows a trading tool to trade autonomously on your behalf by following pre-programmed instructions.
Although you might be expecting this great feature in the Geeks Toy software, unfortunately, it does not come with this feature.
With automation, your tool follows specific instructions and uses them for trading on your behalf.
Although some traders think this might be helpful, there is currently no plan of including this feature in the software.
However, discussions and questions may push the developers to include it in future updates.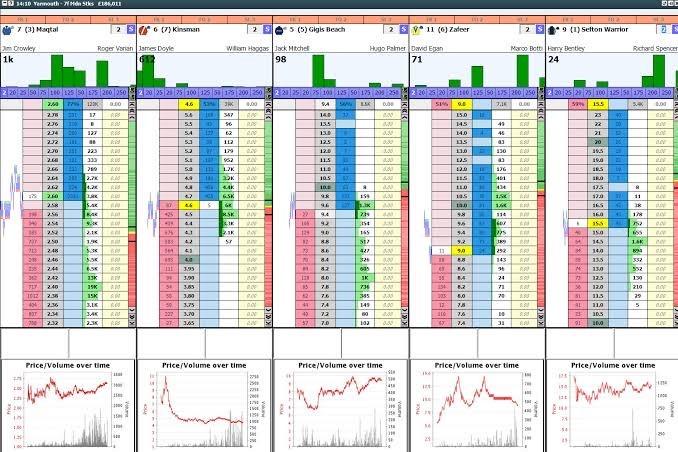 Nevertheless, Geeks Toy remains the best manual trading tool.
Instead of the automation function, it comes with another unique feature, the multi bet tool. It allows you to place multiple trades at the same time.
But if you want an automated trading tool, Geeks Toy is not an option.
Chapter 5
Top Features
The GeeksToy software is packed with an excellent range of features.
As you would expect, some are more useful than others. Some are also easier to get to grips with right away. The Geeks Toy software is a beneficial trading tool with numerous excellent features.
Some of its features are below.
Multi-market trading
One of the most exciting parts of Geeks Toy is its multi-market trading feature. Many traders, especially newbies, trade and monitor only one market at a time.
However, this software allows you to trade different markets simultaneously.
Also, it allows you to watch your trades seamlessly while switching between your trades.
Also, you can customize and label the cards to prioritize your trades and monitor them effectively.
Fast execution and one-click betting
Apart from relevant information, swift execution time is another crucial aspect of trading. Geeks Toy allows you to execute your trades without any delay via its one-click betting.
With just a click, you can execute as many trades as possible. This is especially important for hedging and pre-race markets.
Enhanced Market Navigation
Another notable feature of the software is that it is very easy to use. It is user-friendly and, therefore, effortless to navigate.
Unlike other software or regular Betfair website, you can quickly comprehend features and parts of the software.
Therefore if you want a user-friendly experience, Geeks Toy is the right choice.
Advanced Trading and Charting:
Geeks Toy also features advanced trading tools like moving averages, MACD, price candles, and trading volume, among others.
This is very useful for experienced traders to analyze the market conveniently.
There are numerous customizable options to choose from and carefully analyze your trades.
Geeks Toy Training Mode:
Apart from the free trial, the software also comes with a practice mode to try out the software without any risks.
This mode is essential for new users to get accustomed to the platform without fearing losing their money or winnings.
Ladder interface:
Getting access to several market information, including market depth data, can be tedious for traders.
Fortunately, the ladder interface feature allows you to have a general overview of huge market data at once.
Information is arranged neatly and orderly with this feature.
Dutching:
GeeksToy dutching makes it convenient for players to choose the right strategy while monitoring their trades. It also includes functionalities to help analyze and calculate trades automatically.
Chapter 6
Pricing
Improving your trading experience with Geekstoy is relatively easy.
However, you must have a Betfair, Betdaq, or Matchbook account before using the software.
While many trading software has a substandard free version, Geeks Toy offers full access to the software for 14 days.
The most exciting part of the free trial is that you do not have to enter any personal or payment information before using it.
The free trial gives you limitless access to the software without paying a dime.
Geeks Toy download is free and is available on the software's website.
However, your PC device must be a Windows PC running at least Windows 7.
It must also have a minimum RAM of 1GB and free hard disk storage of 20MB.
For effectiveness, the PC must also be powered by at least a 1.6ghz single-core processor.
After the 14 days trial period, you can buy a license key to upgrade to Geeks toy pro to continue enjoying its exciting features.
Geeks Toy price starts at £20 for three months access. A year's access comes for just £60.
This is by far the most affordable and effective trading software.
You can earn the subscription free from the 14 days trial.
Chapter 7
Summary: Is it worth the money?
Geeks Toy is a highly affordable and effective tool compared to other trading tools online.
In fact, the help and information it offers have proven to enhance profitability. This is why it is one of the best and most popular Betfair trading tools.
The software is easy to use; therefore, whether you're a new or experienced trader, Geeks Toy is definitely your best option. The platform has a training mode or free trial to check out its features if you're new. If you do not understand some features, you can contact support or go through the community forum.
Also, the feel is relatively cheap for its function. It gives you a smooth and memorable trading experience from your fingertips.
The software runs on virtually any type of PC as an added advantage, although it doesn't support mobile devices. It also offers layouts that are easy to use and understand.
However, it lacks an automated trading function. If you need a seamless and convenient trading experience, Geeks Toy is the right choice. It boosts your confidence and profitability.
Before you start, you can opt-in for the 14-day free trial to check out its features and experience its real-time functionalities.