The Smarkets and Betfair exchanges are the undisputed leaders, and it's between these two that people who are starting on their trading or lay betting adventure stand.
We know, that the Betfair exchange is an incomparable giant, but is there anything that Smarkets is better at?
What should you choose Betfair or Smarkets?
We bring you the most popular categories that will help you choose the right exchange.
Chapter 1
Commission
Have you read on various sites that Betfair charges 2%, 5%, and 8% commission and you don't know which is true? Have you also found information that you can get 0% commission on Smarkets, and yet when you type "Smarkets commission" into google it shows you 2%?
Don't worry, we are here to help!
Let's start with Betfair.
You can pay 2% commissions as well as 5% and 8%. It depends on the plan you choose in THIS tab.
Of course, there is a catch.
By opting for a 2% commission on winnings, we get rid of all other promotions and extras.
However, this is the best option if we take trading seriously if we are going to bet larger amounts, and especially if we win.
As you can see, the bigger the commission you choose, the more extras you'll be entitled to such as Free Spins, Odds Boost, Free Bets and even a 10% Refund on losses.
Which rewards plan suits you?
The choice is yours!
Now let's move on to Smarkets.
Smarkets does not have special plans like Betfair.
The standard commission charged on winnings is just 2%. However, there is an option to get a 0% commission. Of course, there is a catch here too, a bigger one.
0% commission rate is available only for Smarkets matched bettors who are premium OddsMonkey, Profit Accumulator or Profit Maximiser members.
Haven't heard about matched betting? Read our matched betting tutorial for beginners and get everything you need for a successful start!
Furthermore, at the same time, we are automatically excluded from depositing funds via Skrill, Neteller, Trustly or Paypal. This leaves us only with a debit card, which is already a huge restriction for the vast majority of people.
Moreover, 'customers who access Smarkets through any non-OddsMonkey/non-Profit Accumulator/non-Profit Maximiser API or trading software will be ineligible for this offer.
In addition, the 0% commission promotion is only available until 23:59 GMT on July 31st, 2022.
Overall, getting a 0% commission on Smarkets will only prove beneficial to us if our monthly turnover on the exchange is at least £1500.
The rest is a wordplay and a hunt for newbies who see '0% commission promotion' and their eyes light up.
The verdict in this category is a draw (0:0).
Chapter 2
Markets availability
Betfair has a significantly larger number of sports and wider markets on offer. We've dropped in a table comparing the available In-Play markets in the midweek afternoon for comparison.
AVAILABLE MARKETS IN-PLAY
Exchange
Football
Tennis
Snooker
E-Sports
Basketball
Cricket
Volleyball
Darts
Betfair
4
10
4
4
1
8
1
1
Smarkets
0
3
3
4
1
3
0
1
It is worth mentioning that Smarkets has two more markets for Rugby sports, two from Motorsports and two from Cycling. However, in the most popular sports for trading such as Football and Tennis, Betfair is second to none.
What markets, sports and events do these betting exchanges provide?
Here is a summary straight from their website.
Betfair fares much better in terms of availability and number of markets, so 1:0 for Betfair.
Chapter 3
Liquidity
It is time for one of the most important factors that we consider when choosing the best betting exchange, which is liquidity. It is about financial liquidity, which allows us to place lay and back bets.
It is extremely important because our bet will not be matched if there is not enough liquidity.
While Betfair was superior to Smarkets in this aspect just a few years ago, Smarkets has caught up and, while it may not be on par with the orange giant, it is no longer far behind.
While in the lower leagues there may be a liquidity problem on Smarkets (see 1st screenshot below), in the higher leagues and world events we will have absolutely no problem getting our bet matched (see 2nd screenshot).
Betfair also fares better when it comes to liquidity. We already have 2:0 for Betfair.
Chapter 4
Welcome Offer
Betfair has plenty of welcome offers when it comes to registration. It all depends on what you are more interested in: Exchange, Sportsbook, Poker, Casino or Bingo.
| | | |
| --- | --- | --- |
| | Betfair Bonus Description | Betfair Promo Code: |
| Exchange | £20 Money Back in Cash – Max £20 refund on the first bet. Bet must be placed in the first 7 days of account opening. | VAL225 |
| Sportsbook | 5x £20 Free Bets – New customers place £50 worth of bets to receive £20 in free bets. Repeat up to 5 times to receive a maximum of £100. Min odds 1.20. | ZBAA01 |
| Poker | 200% up to €200 – Deposit €10 to Poker wallet to trigger 200% Match Bonus & unlock 2x €250 Freeroll entry tickets. | INTPOK |
| Poker #2 | Up to €40 in Free Tickets – earn 25 or 50 Status Points to get €20 or €40 in free tickets. Tickets have 30-day expiry. | PKRREG |
| Casino | Bet £10 Get £30 + 100 Free Spins – Min Deposit £10. Deposits made by e-wallets are not valid. Bonus wagering x35 on eligible games. £5 Max Stake On Bonus. Spins available after bonus redeemed/lost. Spins value 0.10p. UK&IRL Customers Only. | CASA10 |
| Casino #2 | 50 Free Spins – Free spins valued at 10p. After you've played your initial free spins, opt-in, deposit and play £10 on Daily Jackpot games to get an additional 50 free spins. Reload the game to get your free spins. | CASF51 |
| Bingo | Bet £10 Get £40 – Play £5 in Bingo rooms to receive 200 Free Tickets. Play £5 on eligible Slingo games to receive a £20 bonus. Free Tickets & Slingo bonus carries a 1x wagering requirement. | BINSGO |
As you can see there is a lot of it, some websites write about the Betfair 2% commission welcome bonus but remember that you just need to choose Basic Plan to get 2% commission. We do not need any code.
The situation is much simpler with Smarkets because here we are dealing exclusively with the stock exchange, so the Smarkets welcome offer applies to the exchange.
| | |
| --- | --- |
| Smarkets Bonus Description: | Smarkets Promo Code: |
| Trade with 0% commission for 60 days. | COMMFREE |
| Get a £20 cash refund | SMK20 |
Smarkets is just an exchange so we only compare welcome offers that we can apply to the exchange.
In this case, Smarkets performs better, coming close with the result and we already have 2:1 for Betfair.
Chapter 5
Payment Methods
Here we will get straight to the point because the subject is simple.
Betfair Betting Exchange
Bank Transfer
Debit Card
Paypal (£10 minimum deposit)
Neteller (£12 minimum deposit)
Skrill (£10 minimum deposit)
MuchBetter (£10 minimum deposit)
PaySafeCard (£5 minimum deposit)
Rapid Transfer (£10 minimum deposit)
Smarkets Betting Exchange
Bank Transfer
Debit Card
Paypal (£20 minimum deposit – £200 max limit)
Neteller (£20 minimum deposit – £5,000 max limit)
Skrill (£10 minimum deposit – £5,000 max limit)
Without a shadow of a doubt, the orange giant fares better when it comes to payment methods and the score changes to 3:1 for Betfair.
Chapter 6
Features
| | |
| --- | --- |
| Betfair | Smarkets |
| Works with most trading software | Works with most trading software |
| No cash out suspensions in many sports | Blog Section |
| Affiliates Program | Affiliates Program |
| Exchange, Games, Timeform API | Smarkets HTTP API |
| Exchange & Sportsbook APP | Smarkets App for iOS and Android |
| Community Forum | Community Forum |
It's hard to pick a winner in this category. Smarkets is not far behind Betfair.
Everyone will find something for themselves on both exchanges, so in this case, the result is a tie (still 3:1 for Betfair).
Chapter 7
Usability
Using the service should not cause you any problems on both Betfair and Smarkets. It is said to be a matter of getting used to it.
There is, however, a slight difference between one and the other, as when entering a selected event on Betfair, we are shown the odds and available money on each market on the main page. We don't have to go into the individual markets.
Whereas on Smarkets we only see the odds on the selected market. To see the available odds on the other markets we have to choose the market we are interested in or expand from the list on the right.
Moreover, Smarkets focuses exclusively on the exchange. We will not see the other tabs related to Poker, Casino, and Bingo as in the case of Betfair.
For some, this will be a benefit in that we are not distracted by other less important things, while for others it will be a disadvantage due to the lack of other features.
There are as many opinions, as people 🙂
An undisputed draw in this regard (still 3:1 for Betfair).
Chapter 8
Mobile Apps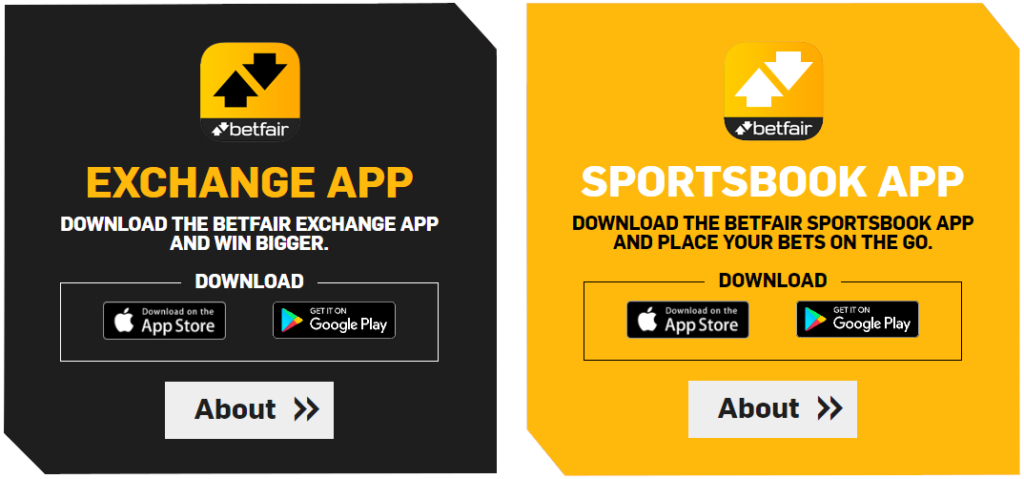 Rarely do professionals use apps. This is because using an app will never be as convenient, easy, instant and intuitive as using the computer version of a website.
However, if you would like to keep an eye on your bet/match or take a peek at the current odds on your chosen event, you won't encounter any problems, as Betfair and Smarkets provide mobile app downloads for Android and iOS devices. You can easily find these apps in the Google Store or App Store.
Check the detailed reviews from us:
However, there is one significant difference when it comes to mobile apps. Betfair provides a whole library of them! Not only do we have software for the Betfair exchange or Sportsbook, but also for automated betting, matched betting or data collection.
There can only be one winner in this category, 4:1 for Betfair.
Chapter 9
Support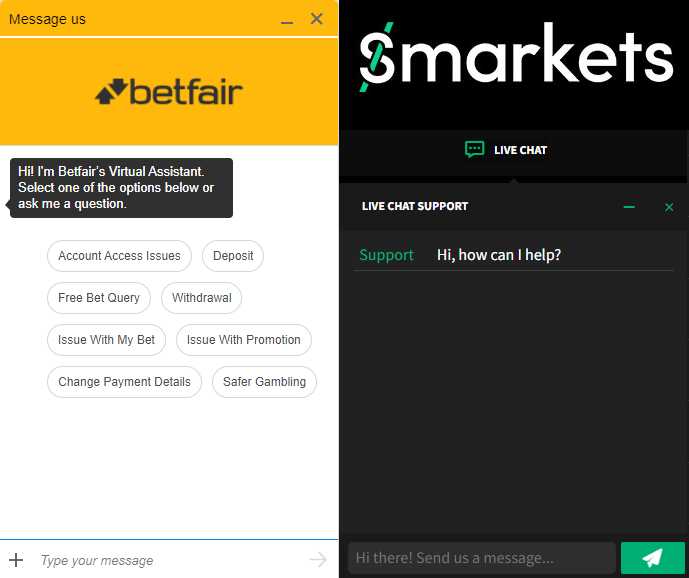 Contact with the support team is of the highest standard. At both Betfair and Smarkets, you will receive a prompt response to your problem.
If a specially designed bot doesn't help, a real human being will, who will get back to you within 24 hours of your request.
You can also get help through social networks like Facebook or Twitter by contacting your chosen provider in a private message.
Alternatively, if you prefer to contact the provider by phone, this is also an option. However, check the phone number you are calling beforehand as call charges may vary depending on where you live.
If you contact support, bear in mind that you may be asked for additional verification of your identity. This is to ensure the highest quality and security.
| | | |
| --- | --- | --- |
| | Betfair | Smarkets |
| E-mail | [email protected] | [email protected] |
| Twitter | @BetfairCS | @SmarketsTech |
| Live Chat | ✅ | ✅ |
| Phone | 0844 871 7000 | +44 207 617 7413 |
| Post | Betfair General Betting Limited C/O Betfair Limited Waterfront Hammersmith London W6 9HP | 1 Commodity Quay St. Katharine Docks London E1W 1AZ United Kingdom |
The score remains unchanged, 4:1 for Betfair.
Chapter 10
Reliability
As far as credibility & reliability is concerned, we need not worry about anything. Both Smarkets and Betfair Exchange are some of the safest and most trusted platforms for sports trading.
Moreover, both have the necessary regulations to provide their services
Smarkets (Malta) Limited is licensed and regulated in Great Britain by the Gambling Commission under account number 39173.
Licensed and regulated outside of the UK by Malta Gaming Authority (MGA/B2C/162/2008 issued May 12th, 2009). PPB Counterparty Services Limited (Betfair & Paddy Power), having its registered address at Triq il-Kappillan Mifsud, St. Venera, SVR 1851, MALTA, is licensed and regulated by the Malta Gaming Authority under Licence Number MGA/CRP/131/2006 (issued on 01 August 2018). PPB Counterparty Services Limited, Betfair Casino Limited, TSE Malta LP and PPB
Entertainment Limited are licensed and regulated in Great Britain by the Gambling Commission under account numbers 39439, 39435, 39561 and 39426.
We have no winner here either, the result is still 4:1 for Betfair.
Chapter 11
Summary
As you can see, the score is 4:1 in favour of Betfair. Smarkets only proved better for the welcome bonus. However, this does not change the fact that Smarkets does not significantly stand out from Betfair, perhaps in the case of available markets.
We have to take into account that until a few years ago, Betfair was the undisputed leader in every field.
Nowadays, some competitors are trying to breathe down Betfair's neck. Smarkets is a great example.
Although the winner of our comparison is the Betfair exchange, we recommend that you also open an account at Smarkets Exchange.
We can assure you that you will not regret it, and an additional account on an alternative exchange can always come in handy.