Chapter 1
How does the Ladbrokes exchange work?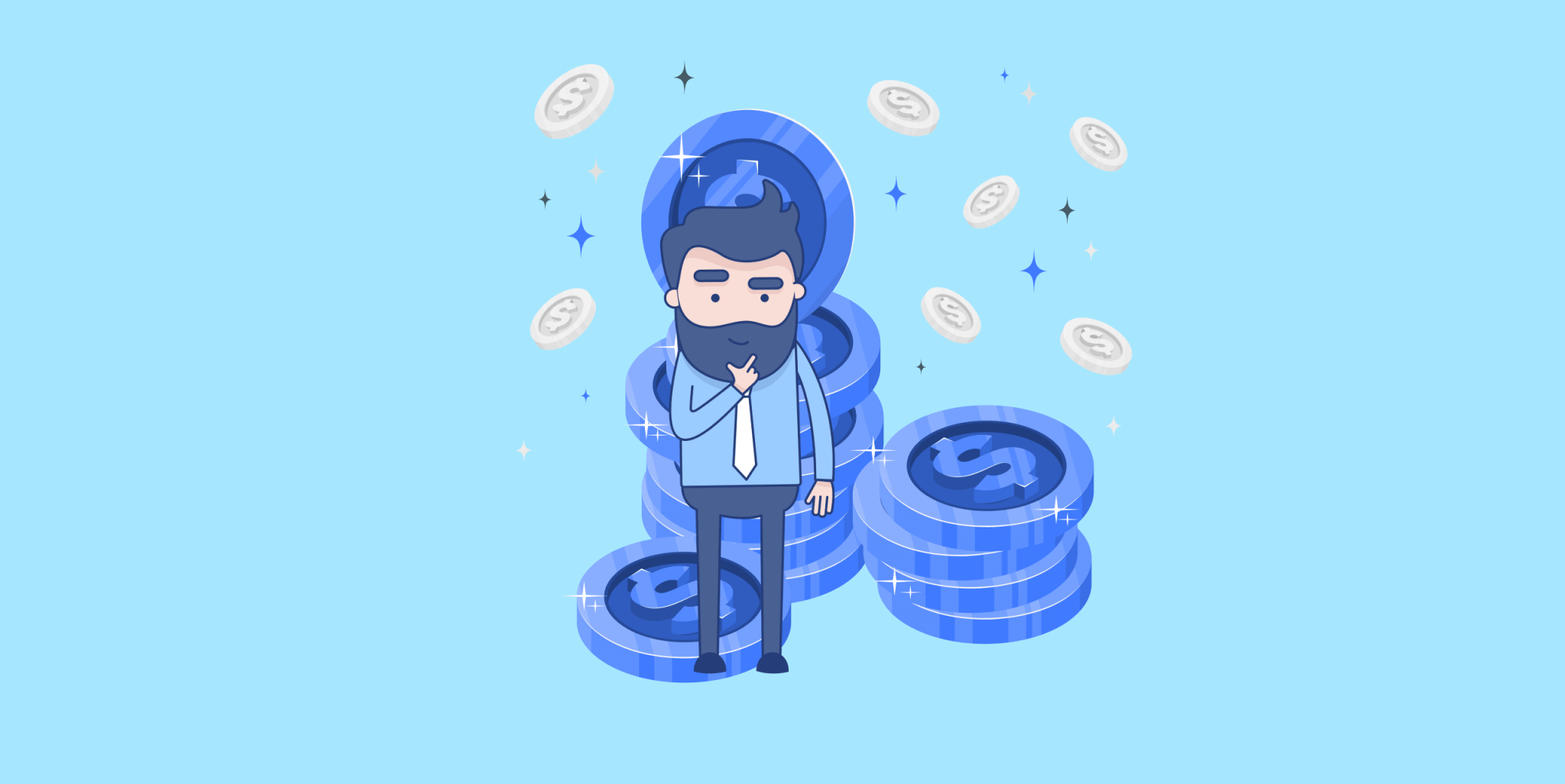 In the first section you will learn:
• How does Ladbrokes work?
• What does it offer?
That's enough for a good start,
so let's check it out!
Ladbrokes is one of the oldest gambling companies in Europe, established back in 1886. Currently based in London, the subsidiary has operated under the name of Ladbrokes Coral since it acquired Gala Coral Group in 2016.
Apart from sports betting, the company also offers financial betting, poker, casino, games, bingo, and backgammon.
Ladbrokes operates in Great Britain under licence and regulation from the Gambling Commission. The company account number is 54743.
Like any others, Ladbrokes betting exchange is a platform where people can place bets against each other.
So if you want to know more, sit back and enjoy the article.
Chapter 2
Ladbrokes Promotions
We review the current promotions on the Ladbrokes Exchange:
• Bet £5 Get £20
• £50 Welcome Bonus
We also check their rules and conditions.
Well, let's get on with it!
The Ladbrokes betting exchange offers a wide array of options, including BACK and LAY odds, so you get much more than you would from a regular sportsbook.
What's more, you can also take advantage of an attractive welcome bonus for all newcomers to the platform. Check out Ladbrokes' current exchange offers for some interesting sports betting promotions.
The platform focuses on providing the best possible user experience, and with that in mind, they've prepared a stunning variety of promos.
Let's take a quick look at some of the most captivating sports betting promotions available right now.
Welcome Offer: £20 In Free Bets
The main bonus on the Ladbrokes betting exchange is the welcome offer based on the premise of free bets. All you have to do to qualify for the promotion is to place a £5 bet.
This welcome bonus only works with single bets, and the odds must be 1.50 or higher.
This promo is exclusively available to Ladbrokes customers from the United Kingdom and the Republic of Ireland only.
You must place your first bet within the first 14 days of registering your account. If you qualify for the bonus, the Ladbrokes exchange will reward you with four free bets, £5 each (total worth of £20).
Most importantly, you will only have seven days to use these bets before they become invalid.
You should also remember that certain customers will not be eligible to receive the bonus. According to the promo's T&Cs, all deposits made using PayPal, Skrill, Neteller, Paysafecard, Moneybookers, or prepaid cards are prohibited from qualifying for the bonus.
Welcome Offer: Get a £50 Welcome Bonus
The Ladbrokes betting exchange offers an additional, attractive promotion for all customers from the United Kingdom, the Republic of Ireland, Gibraltar, and Jersey.
All new players residing in the aforementioned regions are eligible for an extra £50 welcome bonus. To claim the bonus, players must deposit funds into their betting accounts.
After that, they need to place a bet staking at least £10.
This Ladbrokes exchange promo is available for all new customers who have registered their accounts.
Players have 14 days to take advantage of the bonus. Please note that the bookmaker also calls for a serious wagering requirement of 40x the total amount, which equals £2,000.
Most importantly, the welcome bonus applies only to Casino Games.
Chapter 3
Ladbrokes Exchange Commission
And one of the most important!
• How much is the commission on the Ladbrokes exchange?
• Is it possible to get 0% commission?
• How to reduce the commission on Ladbrokes?
Let's find out!
The Ladbrokes commission is arranged so that the more you bet, the lower that percentage becomes.
The basic commission on the Ladbrokes exchange is 5%, which can become as low as 2% (if you acquire 12,000 Exchange Commission Points).
When the number of your bets increases, the commission goes down.
However, it is worth bearing in mind that there are specific commission points you will need to earn first.
A single commission point is awarded to players for every £25 they spend on betting. Win or lose – all bets count towards gaining new points. So what is the quickest way to lower your overall Ladbrokes commission from 5% to 2%?
Let's do some quick maths here – you're going to need a total of 12,000 points. In other words, you'll have to spend £300,000 on betting.
Sheesh! Good luck, anyhow!
0% Commission
You can reduce Ladbrokes commission from 5% to 2%, though it can be a time and money-consuming process.
So does the betting exchange also offer 0% commission promotions?
Well, compared to Betdaq, you won't find such an additional bonus in the standard offer.
If Ladbrokes organised promotion of that sort, it would only happen from time to time.
Chapter 4
Liquidity
Offer and liquidity on the Ladbrokes exchange.
• How does Ladbrokes compare to its competitors?
• How does the liquidity look like?
• Does Ladbrokes have enough liquidity?
We are about to find out!
When it comes to liquidity, Ladbrokes is not among the top betting exchanges in this regard.
Although when it comes to major sporting events, we shouldn't encounter any problems because the more popular the event, the greater the liquidity will be.
The problems arise with less popular events. For example, the screenshot below shows the liquidity in live matches in the first Russian football league.
It does not look good because in the main 1X2 markets, the statement 'No Offer Available'is displayed, which means that we won't be able to trade any money.
If you're a beginner, you may not know that liquidity is almost the most important factor that significantly impacts our choice of a suitable exchange.
The greater the amount of money in the market, the greater the chance our bet will be quickly matched.
Currently, this is something that Ladbrokes needs to work on.
Chapter 5
Registration at Ladbrokes: Step-by-step guide
Couldn't you find a step-by-step registration at Ladbrokes?
We are happy to help you!
Below you will find the most detailed registration process for the Ladbrokes exchange!
There are a lot of points, so do not waste time!
The registration process at Ladbrokes is very simple and intuitive. So while we will be going through a considerable number of individual steps, don't worry!
They will be trivial, and we'll get through them very quickly.
Here we go!
Step 1
As soon as you click the green 'Join' button on the top right, you will see the following message:
In this step, all we have to do is select our country of residence. We can choose from:
Gibraltar
Jersey
Republic of Ireland
United Kingdom
We also need to enter our email address, and then we can click the green 'Continue' button.
Step 2
The second step is to enter our username. It must meet the requirements shown in the image, and that's it! Then just click 'Next' and move on.
Step 3
Step four is to enter your full name as it appears on your ID documentation.
Simple steps, aren't they? Let's move on.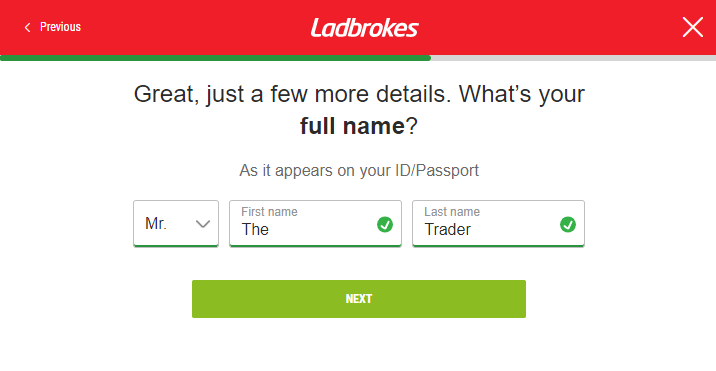 Step 4
Here we need to enter our date of birth, which will confirm that we are over 18 years old.
Step 5
Step six is to enter our phone number as it will be used for verification.
In addition, it can be used to send you the latest offers, but relax, this is optional.
You will find out more about that later in this article.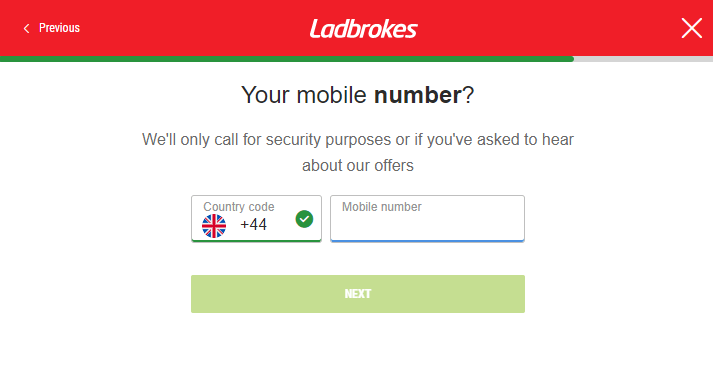 Step 6
In this step, we need to enter our home address.
Please make sure it matches the information on your official ID documentation.
Step 7
'Just one more thing'?
Not quite! There are still some steps to go 🙂
Here we can choose how we want to receive information from Ladbrokes. But, of course, this is not obligatory.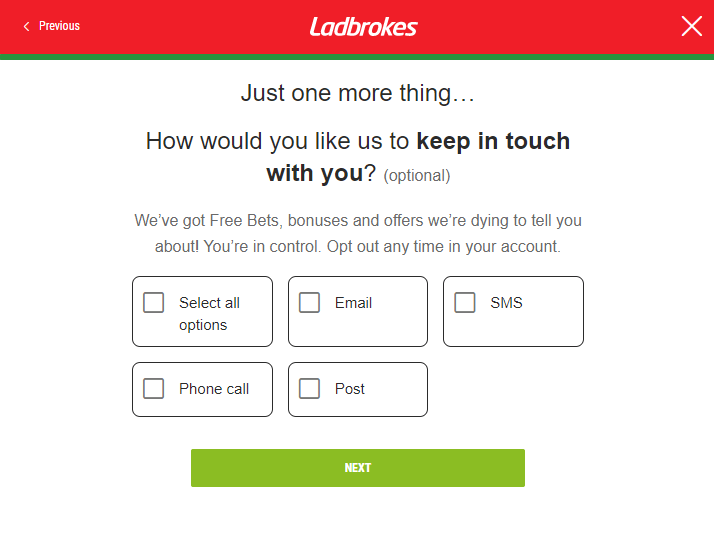 Step 8
In step nine, we need to select our preferred currency.
We can choose from the following options:
Step 9
After clicking 'Create my account' in the previous step, you will receive a message that your Ladbrokes account has been successfully created.
However, there are still a few things we need to do.
We can set limits on our account right from the start.
But if we don't want to do that, we can select 'No, Maybe Later' as it is not obligatory.
Step 10
The following message, however, is very important. While all we have to do is check the appropriate box, take note of the information provided.
Ladbrokes informs us that the funds are held in a separate account, which means that in the event of Ladbrokes' bankruptcy, we do not have to worry about not being able to withdraw our money because such a situation will not occur.
Very reassuring!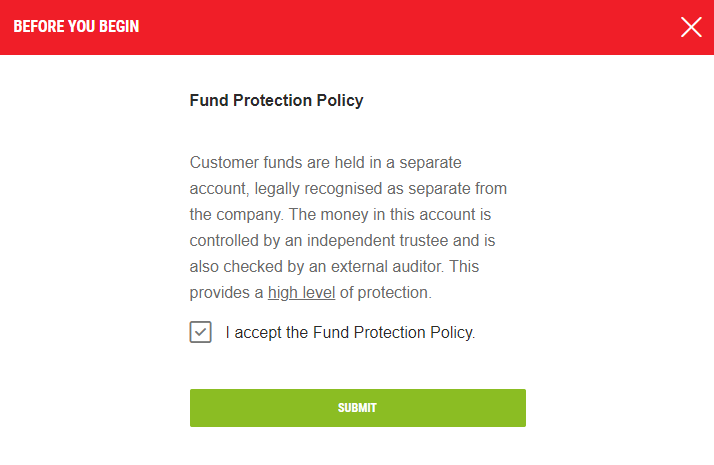 Step 11
Now it really is the final step 🙂
All that remains is to upload the relevant documents for verification.
Providing your driving licence is most convenient because all the information, including your address, can be found on it.
Uploading these documents is necessary if you want to make full use of the Ladbrokes service.
However, if we don't provide the appropriate documents, yet wish to use Ladbrokes, we will receive the following message: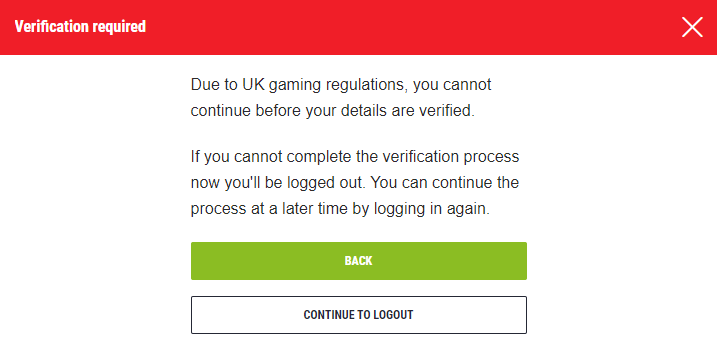 That's it!
As you can see, there were many steps, but they were pretty effortless.
After a quick verification, we will be able to enjoy our Ladbrokes account fully.
Chapter 6
Deposit and Withdrawal
In the section below you will learn:
• What are the deposit and withdrawal methods at Ladbrokes Exchange?
• What are the limits?
• How long do withdrawals take?
Let's take a look!
Fortunately, the Ladbrokes betting exchange does not charge commission on deposits and withdrawals.
Therefore, you can easily top up your betting account using one of the convenient payment methods available.
The only drawback is that there aren't many modern money transfer methods to choose from. That being said, all payments are processed instantly, so you won't have to wait too long to continue betting.
Here is the complete list of available deposit methods:
| | | |
| --- | --- | --- |
| Deposit Method | Timescale | Minimum Deposit |
| Visa / Mastercard | Instant | £5 |
| PayPal | Instant | £10 |
| Paysafecard | Instant | £5 |
| Grid | Instant | £5 |
When it comes to withdrawals, the minimum amount is £5 for all payment methods.
Instant withdrawals, which take up to 8 hours, are available via Skrill, Neteller, WebMoney, PayPal, Paysafecard, eMONEYSAFE, and MuchBetter.
Although, it's good to know that the fastest withdrawal is via Visa Fast Funds, which takes up to 4 hours.
Chapter 7
Cash out
• Does Ladbrokes have a cashout feature?
• How to use it?
• When can you use it?
Check it out!
Check whether your betting slips are suitable for cashing out by logging into your Ladbrokes exchange account.
With this handy tool, players can settle part or all of their wagers before an event ends. This allows them to make a profit while minimising any losses incurred as a result of the bet's performance.
We must emphasize that cashing out is possible for a wide range of markets, both pre-match and in-play.
Click the 'My Bets' button whenever you want to check if you can use the cash-out option. If you see a greyed-out banner, it means that you cannot cash out your bet.
You will be able to read the exchange's explanation as to why you cannot cash out at that time.
This option will not work if the total amount to be cashed out is £0. Sometimes you cannot combine specific bonuses and promotions with the cash-out option.
Therefore, you should always check if your bets are eligible to be cashed out.
Chapter 8
Betting at Ladbrokes
Let's find out how betting on the Ladbrokes exchange looks like!
• What sports are on offer?
• Which sport is not on the exchange?
• How to navigate on site?
Here we go!
By heading to the betting exchange website, you can review all the available sports markets on the Ladbrokes platform.
Here you can browse a wide range of exciting odds and betting options.
As this website only operates as a betting exchange, you won't find a typical sportsbook here.
Browse the current offers on the left-hand side by utilising a nifty A-Z section for the available sports.
Among the betting markets available, the most popular sports include football, horse racing, tennis, ice hockey, and basketball.
Moreover, clients will find a wide range of esports betting markets, too.
Intrested in esports? Check the best esports betting exchanges available right now!
Most importantly, Ladbrokes exchange users can also take advantage of a nicely developed live betting offer.
Simply look for the 'in-play' section on the website.
The free live streaming will make the betting process even more captivating.
Now, let's shed some light on the most popular sports from the Ladbrokes exchange offer.
Football Betting
All major leagues and tournaments are available amongst the current Ladbrokes exchange offer.
Bet on UEFA Champions League and Europa League, as well as the English Premier League.
Find a wide variety of minor leagues, including the Tanzanian Premier League, or Italy's Serie D. Furthermore, with the 'Price Boost' option, you can take advantage of higher odds for the most interesting betting markets.
So, if you love football, open an account and get your free bets to start your adventure with Ladbrokes football betting!
Are you a fan of football betting? Check the football trading guide which was made especially for you!
Horse Racing Betting
Ladbrokes provides its customers with a complete exchange service for horse racing betting.
As the need for horse racing betting and markets is constantly growing, the platform offers a reliable service.
Not surprisingly, the exchange has gone to great lengths to provide an excellent betting experience.
You can easily find current horse racing offers, as there is a special section for this in the top panel menu.
In addition, most of the major horse racing events are available to all exchange customers.
Tennis Betting
As tennis betting is steadily increasing in popularity worldwide, you can find all the major events in the Ladbrokes exchange offerings.
There are several betting markets for various tennis matches. These include markets that allow you to bet on sets, individual games, handicaps, and so-called over/under bets.
Find the best bets on all Grand Slam tournaments: Australian Open, French Open, Wimbledon, and US Open.
Place bets on women's and men's singles and doubles matches as well as look for lesser-known tournaments.
You may also like: Tennis trading – Step-by-step guide for dummies
Ice Hockey Betting
Ice hockey is not nearly as popular in the UK as football, yet there are still fans eager to place bets on their favourite teams. If you take a look at Ladbrokes' exchange offers, you will find that the biggest league in the world – the American NHL – takes the #1 spot.
Players can find a wide range of interesting markets with nicely prepared odds.
Choose from the main markets and period markets to increase your chances of winning.
Basketball Betting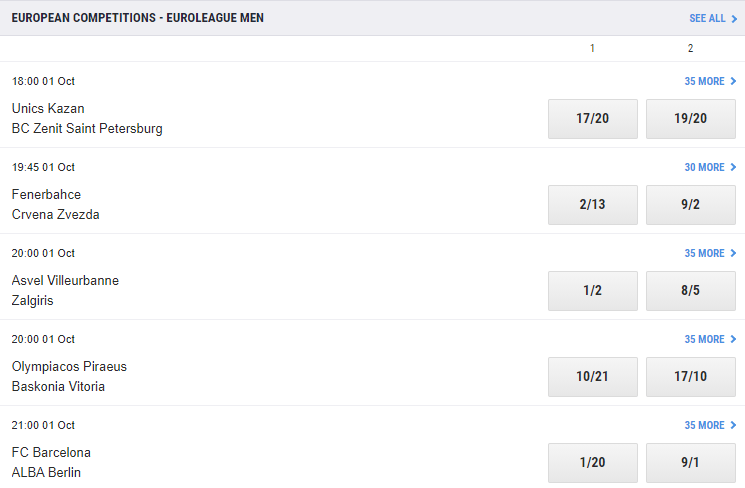 At Ladbrokes, you can place your bets on present and future basketball matches, leagues, and tournaments, so study the sports schedule and plan your betting strategy!
Be aware: Ladbrokes does not offer basketball on the exchange, only on the sportsbook.
Of course, it's no surprise that the #1 basketball market is the American NBA league.
But you can also bet on WNBA and BIG3 with multiple markets prepared.
The exchange also offers betting on markets in Italy, Turkey, Russia, Argentina, Croatia, and a few other national leagues. In addition, internationals are available for your convenience.
Chapter 9
Ladbrokes Mobile App
• How does the Ladbrokes app work?
• How does it differ from the website?
• What systems is it for?
Let's check it quickly!
Take advantage of the modern Ladbrokes Android or Ladbrokes iOS mobile app.
Take your favourite betting markets with you, and always stay up-to-date with the Ladbrokes Exchange mobile app.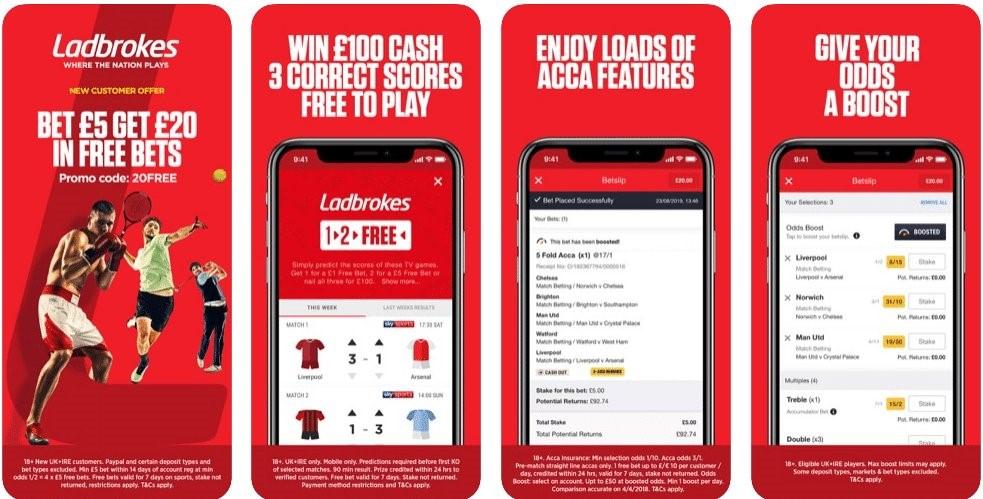 This functional, feature-rich app is a complete tool for all betting enthusiasts out there.
You'll find all of the useful website utilities but packed in a convenient and easy-to-use mobile app.
Here are some of the most impressive features of the Ladbrokes app:
Finger authentication allows for faster login.
Live streaming options are available for in-play betting.
A wide range of stats and visualisations.
Full access to the complete betting offer.
Opportunity to create a new betting account.
In-app push notifications.
Possibilities to deposit and withdraw money to and from your account.
Whether your smartphone uses Android or iOS operating systems, you should give the Ladbrokes mobile app a go!
The app is a valuable and compelling tool that can make your day-to-day betting experience even more comfortable.
Access all your top markets and bet on your favourite sports on the go. What's not to love?
Chapter 10
Trading software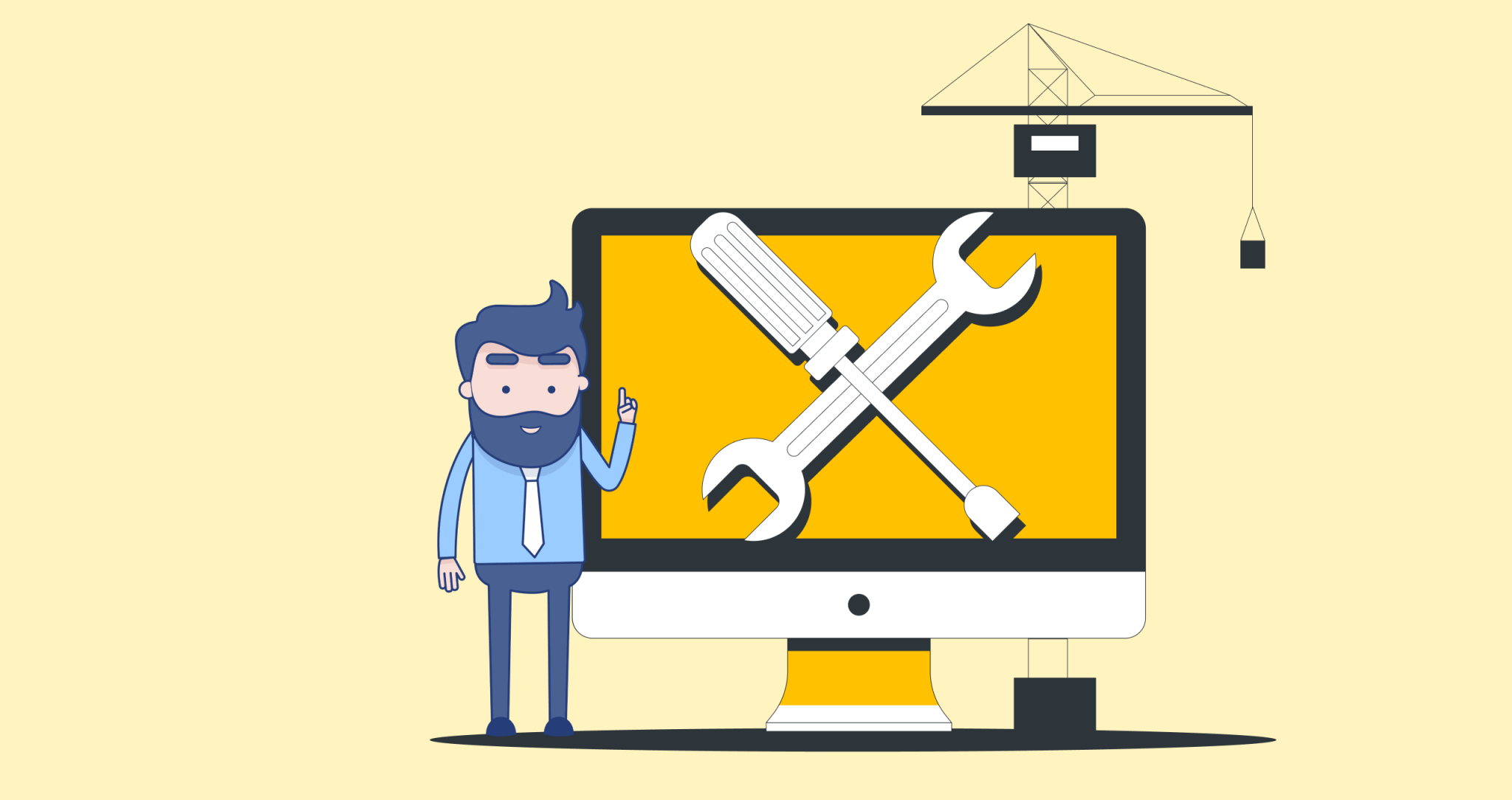 Software that works with Ladbrokes exchange!
• What software is compatible with Ladbrokes?
• What does Ladbrokes offer?
Let's check it out!
There is no third-party trading software available on the Ladbrokes Exchange.
However, this implies that you can use third-party software to trade the markets on the red exchange.

Geeks Toy and Bet Angel are two prominent examples.
Both of which are developed for Betdaq but are compatible with Ladbrokes and completely free to use and download.
These apps will let you trade on Betdaq using trading ladders and other useful trading features that aren't available on the Ladbrokes Exchange website.

Although there is no specific software designed for the Ladbrokes exchange, BetAngel's service ensures that their Betdaq software is compatible with Ladbrokes as the Ladbrokes exchange is based on the Betdaq exchange model.
All bets on the Ladbrokes exchange feed into Betdaq and vice versa.
Calculator
Although there are no special calculators designed for the Ladbrokes exchange, the company offers a free calculator to help us calculate our winnings.
The Ladbrokes Bet Calculator is a basic and simple tool for converting various types of odds.
The three most popular types of odds used worldwide are decimal odds, fractional odds, and moneyline odds, and they're all included in the calculator.
The calculator not only displays the implied probability for odds in all three forms but also allows you to calculate how much you stand to earn when you place a bet at a specific price.
Chapter 11
Secutiry
• Is Ladbrokes safe?
• Is Ladbrokes exchange legal?
• What safety certificates do they have?
• How do I contact support?
We will help you with that!
Ladbrokes' official licence permits them to offer their services to customers in the United Kingdom and the Republic of Ireland.
To earn their seals of approval, they must pass frequent audits and satisfy strict standards.
Therefore, international customers may confidently place their bets, knowing that the procedure is legal and fair.
The company is also obligated to promote responsible gambling as a natural consequence of being legally licenced.
At present, Ladbrokes possesses the following licences:
The UK Gambling Commission licence.
Gibraltar Gaming Commission licence.
Gambling Authority of Denmark licence.
Gaming Commission of Belgium licence.
Tasmanian Gaming Commission licence.
Directorate-General for the Regulation of Gambling in Spain licence.
When it comes to security, customers from other countries will see a 'Restricted Territories' notification when attempting to use the website.
Registration on the Ladbrokes website is only available for residents of the aforementioned regions.
As the company cares about the security and satisfaction of its customers, they also offer several ways to contact the support team.
Ladbrokes betting exchange customers can use a convenient live chat, which usually responds within seconds.
In addition, customers can also call them on 08007316191 or send an email to [email protected].
Chapter 12
Usability of the Platform
• How do I use Ladbrokes?
• Is the navigation intuitive?
• Is it worth using Ladbrokes offer?
Such a small chapter, and so many answers!
Let's find out!
With a wide variety of betting options, the Ladbrokes platform is a valuable tool for all betting enthusiasts.
If you can complete the registration process, the Ladbrokes website and mobile app are both fantastic.
With an intuitive and user-friendly design, you can easily bet on your favourite markets.
Convenience is of the utmost importance to the developers at Ladbrokes, and it shows.
Even though the list of forbidden countries is quite long, it is worth giving the Ladbrokes betting exchange offer a try.
Chapter 13
FAQ
Have you not found the answer to your question?
Don't worry!
You may find one of them below!
We bring you the most frequently asked questions about the Ladbrokes Exchange!
Here it goes!
How much commission is charged on my transactions at Ladbrokes?
The standard commission at Ladbrokes is 5%. Once you earn 12,000 points, you will be eligible for a 2% commission. You get one point for every £25 you've matched.
How do I cash out on Ladbrokes?
Once you place your bet, just click on the 'Open bets' tab, then click and confirm to cash out.
How does Ladbrokes work?
The Ladbrokes Exchange is a betting exchange where people can bet against each other. Ladbrokes charges commissions on winnings for providing the platform.
Is Ladbrokes legit?
Ladbrokes is a reputable and utterly trustworthy platform licenced and regulated by the British Gambling Commission.