We all know very well that matched betting is one of the ways to earn without risk.
But what if you don't have the funds and the minimum required budget to start?
What if you don't want to gamble at all?
Are you looking for another way to make money online?
You have come to the right place!
We will introduce you to some lesser-known yet profitable methods of making money online!
Assuredly, our excellent techniques will allow you to earn some cash. But don't worry – we're not going to talk about any cryptocurrencies or ready-made and 'proven' algorithms that work in online casinos and allow you to win guaranteed money.
Never trust these scammers!
Recently we did the investigation and found out if matched betting is a scam or not.
Instead, we will show you entirely safe and legal methods for making money online.
They say that if you take care of the pennies, the pounds will take care of themselves, and that's true!
The order in which we list our options doesn't really matter.
Remember, it all depends on your own preferences, expectations and predispositions.
We will focus on alternatives that are not related to gambling at all because we understand that there are people among you who simply do not like gambling.
Chapter 1
Become a Freelancer
In this chapter we're going to answer following questions:
Where can I provide my services?
How much can you earn?
Which platforms are the best?
What are the pros and cons of freelancing?
Read on to discover all this and more!
The section on freelancing will be the most extensively covered in this guide.
While I've been interested in all things related to sports exchanges for five years, I have been exclusively freelancing for two years.
Here, I will show you my path. My foray into freelancing began at the start of the pandemic, and throughout, I have worked remotely.
Given my experience, I will describe everything you need to know from A to Z using my own example.
Naturally, the pandemic has widely affected the economy in every country. Many people have lost their primary source of income.
Many more have been laid off due to companies having to resort to budget cuts and hiring restrictions.
Admittedly, this has absolutely nothing to do with me, though I realise that a fair number of readers may have been affected by this.
In my case, working as a surveyor on ships was not threatened in any way – my reason for seeking alternative means of earning was moving to another city.
That's how I ended up freelancing.
How does it work?
Freelancing works on a straightforward principle.
It involves providing any kind of service online. It can apply to virtually any field, and here are some of them:
Graphics & Design
Digital Marketing
Writing & Translation
Video & Animation
Music & Audio
Programming & Tech
Data
Business
Lifestyle
… and, of course, much more.
So the only thing required from you is enough experience within your chosen field to provide services to someone.
Where can services be provided?
Reflecting on my freelancing experience, here are the best sites for it.
Freelancer.com
Initially, I didn't expect much, but I completely changed my approach when I received my first major project from a US employer for $1000.
The site's premise is as follows: you can hire someone or be hired. It all depends on you.
For the purpose of this article, let's assume that we are a translator and we're looking for a job related to translating texts from English to Spanish.
So in the field under the text Browse, we type the keyword 'Spanish'.
The search engine finds projects/jobs related to this word. You choose those that suit your skills and apply by sending a proposal.
Let's review the details in the above screenshot:
The client's budget for the project – don't worry, you will receive the funds in the currency you choose.
Employer reviews – it's worth submitting proposals to those employers who have some feedback because the rest may turn out to be scams. Reject, block and report such people immediately if they cross your path.
Verification the client has passed – If all of them are marked in green, great. However, the most important one is the verified payment method.
Bids – these are points that enable you to send proposals – 1 bid = the capability to send one proposal. As a free member, you get 50 bids per month. Therefore, it's unnecessary to purchase a paid membership – you can easily manage without it.
What do you need to know when considering Freelancer.com?
The commission charged by the service for each milestone – 10%.
The processing time for funds to become available for withdrawal – available immediately.
Withdrawal fees – zero.
Here you can find further information about commission depending on whether you are a client or freelancer.
In my opinion, I rate the overall impression as good.
Freelancer.com allowed me to start providing services for clients.
Without question, the advantages are the low commissions and immediate availability of funds in the account as soon as the client releases them.
Withdrawals to bank accounts take place twice a week, and on average, the funds land in our account after 3-5 days.
The main disadvantage is that the service is not very popular. Therefore, there are not as many potential opportunities as on the other sites, which I'll be covering next.
In addition, it's also important to note that you must be careful which employers you choose on Freelancer.com.
Lastly, another disadvantage is the large number of scammers who offer to contact you via other applications or services or try to scam some data from you.
In the case of other services, I've never experienced this.
Upwork.com
This service is much more professional and, in my opinion, probably the best.
Still, there are downsides, and they're best reflected with the phrase: quid pro quo – something for something. So, let's review how things work on Upwork.com.
The service works very similarly to freelancer.com, except that the client and freelancer base is incomparably larger because of Upwork's reputation.
And, of course, more clients means more work and therefore more income.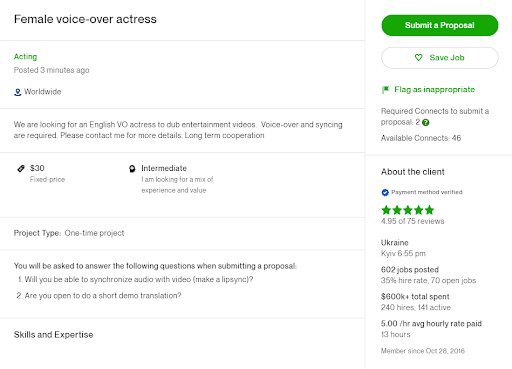 As with Freelancer.com, Upwork operates in the same way. I.e., we send proposals to the employers we select.
Furthermore, the reliability of employers can be vetted for each project in the same manner as on Freelancer.com.
However, on Upwork.com, we pay for sending proposals with so-called 'connects', and the number of required connects depends on project size.
The minimum number is 1, and the maximum is 6.
In the two years I've been using Upwork.com, I haven't experienced a single client who wants to scam me in some way.
Or maybe I just don't remember, which in itself attests to the lack of swindlers on the platform. Either way, I can recommend them.
What do you need to know when considering Upwork.com?
The commission charged by the service for each milestone – 20% for the first $500 with the client.
This decreases to 10% for $500 – $10000, then 5% for over $10000 with the same client.

The processing time for the funds to become available for withdrawal – 5 days.
Withdrawal fees:
$0.99 – Bank Account
$2.00 – Paypal
$2.00 – Payoneer
Regarding the comparison between Upwork and Freelancer, you may be put off by the fee amounts and pending time for the availability of funds.
Nevertheless, the professionalism and number of clients available definitely make up for it.
Upwork.com is the unequivocal frontrunner due to the total security offered and the volume of people using the platform.
While starting out may be difficult, as is the case with any of the sites mentioned here, once you have gained positive feedback on your profile from your clients, it will be much easier to succeed in getting new jobs.
The advantage is primarily the number of people using the service, and thus the number of jobs.
Moreover, when using Upwork, I never worried about receiving the funds; I always received them on time and as I expected.
And, an additional advantage worth mentioning is that Upwork even boasts a phenomenal app that tracks your actions if you arrange an hourly payment with a client.
This ensures that every minute worked is a minute paid.
The most significant disadvantage of Upwork is the aspect of connects that we covered earlier – the points we use to send proposals.
Without them, we cannot send a proposal to an employer, and it may take some time to build positive reviews on our profile.
The basic plan provides only ten connects per month, which is very little because it will only enable us to send proposals to 2-3 clients.
You may feel disheartened at the prospect of connecting.
However, the good news is that after two years of using this service, I upgraded to a paid membership only once – at the very beginning.
After that, I spent maybe $40 on connects because it is also possible to purchase connects, as the following graphic illustrates.
I haven't worried about connects for over a year because Upwork occasionally rewards freelancers with free connects.
If you receive and respond to a job invitation, the platform awards you ten free connects regardless of whether you accept the job.
Fiverr.com
Last but not least, we're taking a look at the final platform that deserves to be in the TOP 3 platforms for freelancers.
It is, of course, Fiverr.com. I've chosen to cover it last simply because it works a little differently.
As with the first two platforms, you can provide services or hire someone.
However, what sets Fiverr.com apart is that it's a bit like Amazon or eBay.
You choose the offer you are interested in and just buy it, you don't have to send any proposals, it's the potential clients who find you.
All you have to do is post your offer and wait for someone to order your service. You set the prices and present precisely what you have to offer.
I recommend that when you're starting out, you set lower prices than your competitors, gain some positive client feedback on your profile and then align the rates of your services with the regular prices.
Doing so is the best way to boost your profile and gain credibility.
Being successful on Fiverr involves using the same approach as selling on Amazon.
It's all about utilising a catchy image first to grab customers' attention, illustrating your service, as well as a relevant description of what you offer.
The better you do this, the more interest your service will receive.
What do you need to know when considering Fiverr.com?
The commission charged by the service for each project- $20.
The processing time for the funds to become available for withdrawal – 14 days.
Withdrawal fees:
$3.00 – Bank Account
$0.00 – Paypal
$1.00 or $3.00 – Payoneer (Depending on whether you want to receive funds in two hours or two days.)
The advantage of the Fiverr platform is that all we have to do is post our offer, and that's it. Nothing more.
We don't spend or collect any bids or connects as with the other two freelancer platforms.
What's more, we can provide services and purchase them. So, after making our service available, we just have to wait for the first client to use our service.
The disadvantage of Fiverr is that it takes way too long for the funds to be made available for withdrawal.
Fourteen days is a considerably long time, and the only way to reduce this time to 7 days is to become a Top Seller.
That involves having a minimum income of $20,000, so it will undoubtedly take some time.
However, after two years of using this service, I don't see any other drawbacks; and I can honestly recommend this platform.
How much can you make as a Freelancer?
In summary, freelancer platforms are a great way of earning money, and each has its own merits.
Definite favourites are Upwork and Fiverr simply because of their professionalism and customer approach. But, of course, Freelancer.com is also worth checking out, so don't dismiss it.
Earnings on such platforms fluctuate considerably, depending on which services you provide.
For example, simple assignments and jobs can bring a few dozen extra dollars. In contrast, if you are, for instance, a programmer, you can easily earn much more money, such as $10,000 per month.
You might be at a loss as to what service you could provide, but you must be good at something!
There are plenty of opportunities.
For example, you could weave Christmas garlands, or you could program, be a graphic designer, or be a video editor.
You could be a copywriter and write texts or manage someone's page or fan page.
You could even be a gamer and provide a so-called 'account boost' to potential customers.
There are endless possibilities!
Check out these websites; maybe you'll come across something and discover something new in yourself :)!
If you have experience in a particular field or are good enough to provide services – don't hesitate and give these platforms a try!
Chapter 2
Swing Trading & Scalping
Have you heard about Swing Trading or Scalping? I bet no!
In this section you'll learn:
How do they work?
How much money can you make?
What are the advantages and disadvantages of these methods?
Let's get started!
Ok, let's finally get back to the topic relating to bookmakers and exchanges, which is what we like best.
Since matched betting is all about making money without risk, what are the other ways you can also make money without taking unnecessary risks?
Swing Trading and Scalping, of course! We have combined both methods here because they are very similar.
The differences are mainly in the fact that swing traders keep their trades open for at least one day.
In contrast, scalpers can make a profit even after a few seconds if the price changes in their favour.
How does it work?
The way Swing Trading and Scalping works is straightforward.
You place a bet at a good price and sell as soon as it falls, or conversely, you place a lay at a lower price guaranteeing yourself a profit as soon as it rises.
So what's the catch?
Well, actually, there isn't one. The only thing required is to assess the behaviour of the odds correctly.
For instance, if you anticipate that the odds will rise, you place a lay bet on the event, and if you expect that the odds will fall, you place a back bet.
Here you can learn more about lay and back bets
This is where in-depth research comes into play, and it's how you begin to predict the odds' behaviour accurately.
Example
For example, if you were to place a BACK bet on Aberdeen winning at 3.00 odds for £200, your profit would be £400.
These methods are all about earning without risk, so you would have to place an opposing LAY bet as soon as the odds drop, let's say at the current odds of 2.5 for £240. This way, you would be able to make £40 regardless of the final result.
The most important thing is not being too greedy.
If we're able to make just £5, that's better than nothing, because if the odds don't go the way we expected, we could even lose money.
Scalping and Swing Trading involve making even the smallest amount of money as not all trades will go your way, and you have to be aware of that.
How much can you make?
There is no simple answer to this question.
If you start scalping or swing trading with a budget of less than £100, don't expect to make £1000 in one day. That's just not how it works.
Remember that each bet or trade should not exceed 5% of your budget. You cannot trade with 50% of your bankroll and then realise that the odds are not in your favour, and you are already 50% down.
That is why you need to have a large bankroll to start earning better amounts, i.e. at least £50 per trade.
Beginner scalpers/swing traders will be able to earn £1-£2 on a single bet. Not enough?
Well, realistically, that's how you build your bankroll and consequently increase your stakes and winnings.
Pros & Cons
The advantage is, above all, to make money before the match even starts.
The match's final result does not interest us because we already earn on the movements of the odds before the match has begun.
Another advantage is that we can exit the market at any time. Suppose we expect that the odds will not go in the desired direction.
In that case, we can minimise the loss, practically to zero, by leaving the market at the right moment.
The main disadvantage is that you need to have a sizable budget to start making serious money and live off scalping or swing trading.
Starting out is – as always – hard.
Nevertheless, your earnings will increase accordingly with time and experience.
In addition, a further disadvantage is the in-depth research required to estimate the behaviour of the odds correctly.
An incorrect prediction will lead to a small but progressive reduction in your budget.
Chapter 3
Surebets / Arbitrage betting
In this part we're oging to describe the following questions:
How do I make money from surebets / arb betting?
Is it profitable?
What should I use?
What are the advantages and disadvantages?
Let's find out!
We must admit that this way of making money used to be much easier. Unfortunately, nowadays, some bookmakers have algorithms that catch people playing surebets.
Such bookmakers limit users' accounts by minimising their stakes. Nevertheless, this isn't the case everywhere, and it is still an excellent way to earn some money.
It is important to note that to use surebets or arb betting, we must have a substantial budget to make it worthwhile.
Of course, nothing stands in the way of playing surebets with a smaller bankroll. But as you well know – a smaller bankroll means smaller income.
Be that as it may, everything comes with time.
In addition, to find the right surebets, the best way would be to use sites like BetBurger, although they are not the cheapest – we will cover that later.
But first, let's understand how surebets work.
How does it work?
Surebets or arb betting is about making money on the difference in odds at different bookmakers.
To easily illustrate the concept, let us assume that a home win at one bookmaker has odds of 2.0, while at another bookmaker, the odds for X2 are 2.1.
In this way, by betting £204.88 with the first bookmaker on a home win AND £195.12 with the second bookmaker on X2, we can earn £9.75.
And that's regardless of how the match ends.
In this case, we do not trade, and we can bet for our entire bankroll, BUT we have to be 100% sure that both bookmakers will accept our bet for a certain amount AND that both bookmakers are solvent.
Moreover, we need to be 100% sure that the odds have not changed, and we must react quickly, placing bets simultaneously on both bookmakers.
Furthermore, we have to make sure that there are no other commissions which would reduce our profits.
It's worth keeping all of this in mind to prevent wasting our entire budget.
Example
Betburger analyses dozens of bookmakers compares the differences in odds and presents the amount of the difference in a percentage.
Let's say we have £400. To make a risk-free profit on this bet, we have to bet:
£389.29 on AH1(0), which means Draw No Bet at odds of 1.40 with bookmaker Bet365
£40.76 on Tie at 3.82 odds with Marathon
£99.09 on a visitors win at 5.50 odds with Corbett
This way, when all bets are settled, you will earn £15.85-£15.87 regardless of the final result.
How much can you make?
There is no definitive rule here.
The amount of earnings depends on:
The number of surebets played
The percentage difference in odds
Your budget
Pros & Cons
As for the advantages, one of them is that there is no risk involved in making money. It is a 100% risk-free method.
All that matters is that our bet has to be accepted at the given odds and settled.
At one bookmaker, we win; at another, we lose – that is what surebetting looks like.
What are the disadvantages?
First of all, we are practically forced to use a service that will provide us with both pre-match and live surebets, and this costs money.
Average prices are about £9/day for LIVE & PREMATCH because they are cheaper individually.
Is this a lot?
Well, taking the above into account, only 3% surebet, with a £400 budget, we could easily earn to utilise such services, and that's just one surebet…
Another disadvantage may be that we must have accounts with many bookmakers; no account can be limited, and each bookmaker must be solvent.
This might not be such a big problem, but it's worth mentioning.
In addition, it's important to remember that surebetting is time-consuming and requires swift action on your part.
You must react quickly because the bookmakers can change the odds, so you also need to read the rules and learn how they settle your bet in such situations.
Chapter 5
FAQ
1. Is there anything similar to matched betting?
No, matched betting is unique, just like any other method of making money online, such as playing surebets. In essence, it also involves making money without risk, yet they are different.
2. Is matched betting worth it in 2021?
It is still definitely worth using matched betting, especially if we don't have established accounts with many bookmakers, because it gives us more opportunities.
3. Can you make a living out of matched betting?
Of course. But certainly not as much money as you can earn in freelancing! However, if you have experience in gambling and at the same time can create new accounts with different bookmakers, then you can easily make a living from matched betting.
4. Can matched betting work without free bets?
Yes, it can work without free bets and even if we have various bookmaker accounts. Everything all depends on the number and availability of new promotions and offers.